Eddie* is a recent client of North Atlanta Hair Restoration, who saw Dr. Danyo for a Shave-less FUE procedure and wanted to share what it was like with others.
Like many others, Eddie started to have some concerns about receding hair on the sides of his head. He did not have major hair loss, but he ultimately decided to seek some help.
After doing some research online, and his wife looking into hair restoration procedures as well, Eddie decided to make some calls to a handful of Atlanta hair replacement clinics.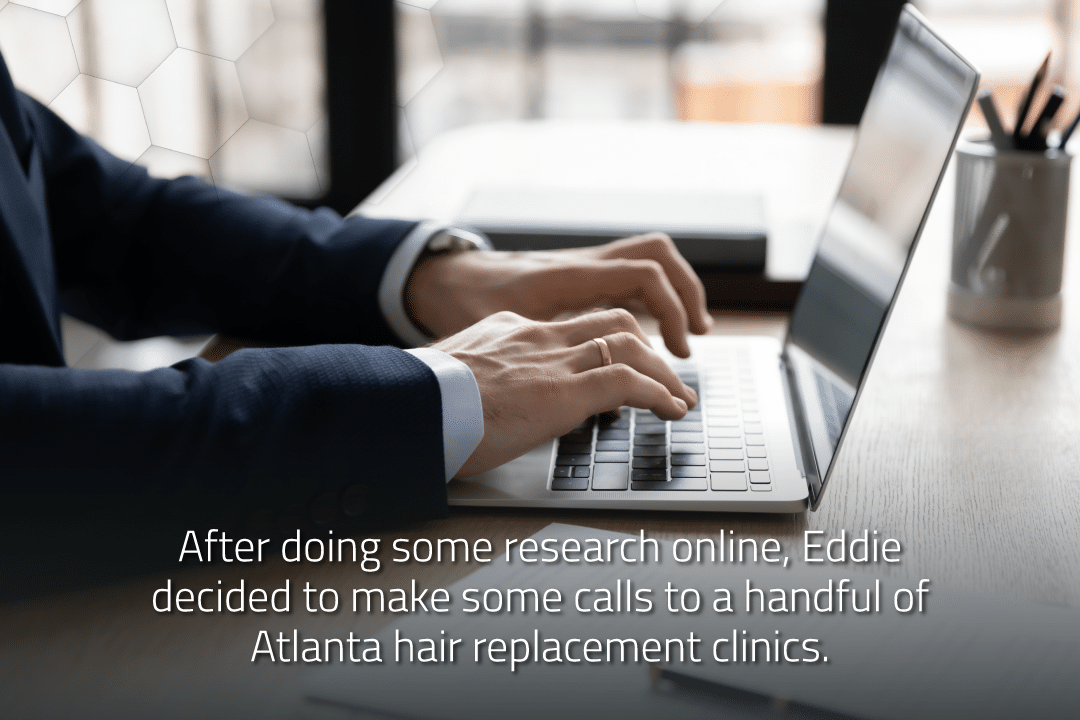 Finding the Best Hair Replacement Doctor in Atlanta
"I just started Googling and looked for people in Atlanta. I ended up calling several. I think I ended up calling three of four different groups and just started talking to them over the phone."
There were many similarities between all the medical offices Eddie called.
Many had fees and prices that were consistent with one another, and the processes started to seem familiar.
However, when comparing his experience with different doctors, there were a few red flags and an apparent difference between his conversations with Dr. Danyo, the founder, and leading practitioner, of North Atlanta Hair Restoration, and other doctors in and around the Atlanta area.
"Dr. Danyo took the time to answer all my questions. He was not in a rush to get off the phone. He proactively answered some of the questions that I was curious about," says Eddie.
The Difference Between North Atlanta Hair Restoration and Other Doctors
When he spoke with other practices on the phone, he felt like he was "rushed off the phone after like five minutes" and did not find the calls to be very helpful. This was not the case when it came to his consultation with Dr. Danyo.
"I didn't have to ask him everything. He kind of volunteered the information I was getting ready to ask about."
In addition to talking with Dr. Danyo on the phone, a quick Google search led Eddie to blog posts, podcasts, and other information from Dr. Danyo at North Atlanta Hair Restoration.
Dr Danyo believes that having a wealth of information for free about No-shave FUE allows his patients to know what to expect from their own procedure. It also gives you the opportunity to learn that Dr. Danyo will not only do your consultation, he will also be there for your hair transplant the entire time.
"Between the conversation I had with him and his website presence, or internet presence rather, I just got comfortable."
Thanks to Dr. Danyo's numerous displays of knowledge and involvement both online and on the phone, Eddie felt that Dr. Danyo was capable and had the necessary experience to do a good job. Which was an impression Eddie felt was lacking from other doctors and technicians.
Dr. Danyo's Experience Makes the Difference
Not every medical technician or doctor that performs hair transplant procedures solely focuses on hair restoration or dedicates all their focus and time to hair restoration. For many practices, a hair transplant is just another procedure or another thing to sell to their clients.
According to the American Board of Hair Restoration Surgery, "any individual with a medical license can legally perform hair restoration surgery."
Having looked at multiple websites and talked with various practices on the phone, Eddie learned that while Dr. Danyo does all the procedures himself, this is not always standard practice.
"A lot of the other practices, they just hire technicians to do the procedure, and the doctor doesn't do it. And that was a little bit of a red flag to me."
The American Board of Hair Restoration Surgery Exam (ABHRS) is "the only psychometrically and statistically validated examination dedicated to the specialty of hair restoration surgery."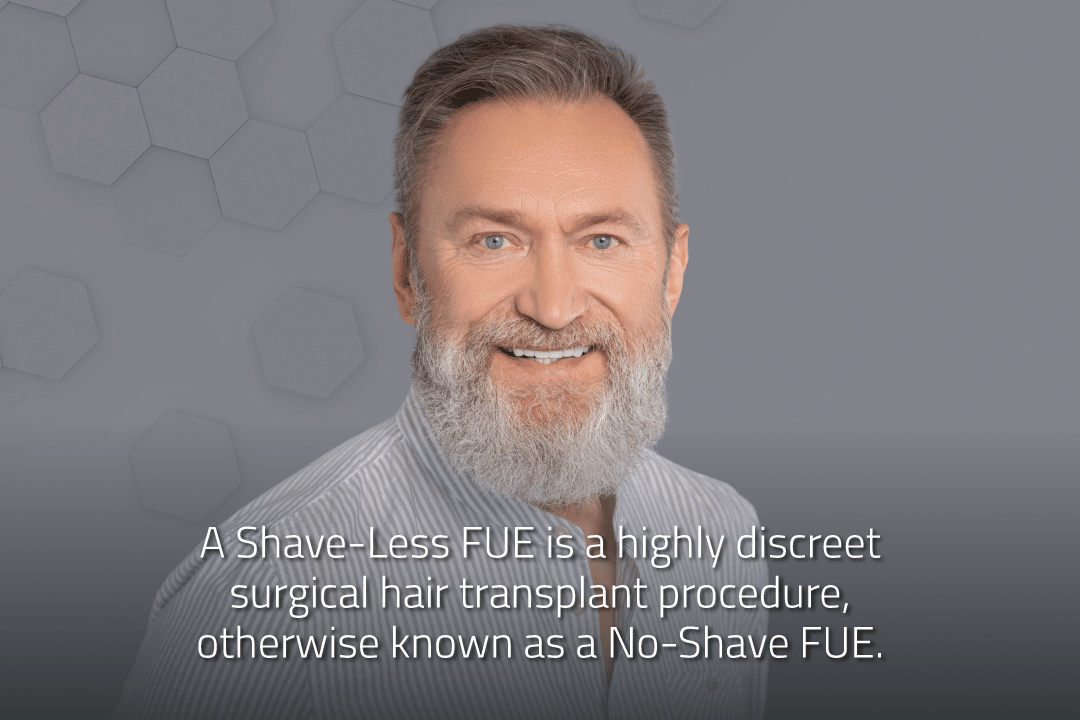 Only around 200 hair restoration surgeons are ABHRS certified. Dr. Danyo is one of those select surgeons.
Not every case of hair loss is the same. As a result, not every hair transplant should be the same either. As a leading practitioner in his industry, Dr. Danyo actively offers solutions and gets involved in every case, from start to finish.
Dr. Danyo has also undergone a Shave-less FUE procedure, so he understands what his patients are going through. He has been in their shoes and knows the potential positive impact a hair transplant can have on a person's life.
Forming a relationship with Dr. Danyo made Eddie comfortable with moving forward with his hair restoration procedure.
Eddie was searching for help with the back of his head up to his temples in addition to a few patches on his goatee line. Dr. Danyo recommended that Eddie undergo a Shave-less FUE procedure, which would give him the results he needed without any tell-tale signs of the procedure.
What is a Shave-Less FUE?
A Shave-less FUE is a highly discreet surgical hair transplant procedure, otherwise known as a No-Shave FUE. Follicular Unit Excision (FUE) is excellent for restoring your natural hair. Hair follicles are extracted from the donor site and then reinserted where you need help. This hair restoration method does not require the removal of a strip of scalp like a traditional follicular unit transplant (FUT).
What makes Shave-less FUE is different from other FUE procedures because there is no shaving required, which makes a long hair transplant possible.
In addition to not having to shave your head, some other benefits of Shave-less FUE include:
Does not leave a linear scar
Minimally invasive procedure
Natural results that match the natural direction and curl of your hair
Transplanted hair follicles can easily be covered up by existing hair
Quick return to normal-everyday life
Instantaneous results
Before and After Your No-shave FUE Procedure
Eddie woke up early the day of his procedure and was not too nervous. "It wasn't like I was doing my entire head, the procedure was pretty simple," he shares.
Before starting the procedure, Dr. Danyo walked him through how the process would work and exactly what he would be doing. He also introduced Eddie to everyone else at the practice that would be assisting with the procedure.
Following his hair transplant, Eddie laid low for a couple of days. He had some redness and swelling on his face due to his beard FUE treatment, so he took a few days to recover.
"Someone who really thought about it, they'd sort of say 'yeah you look different' but again what I had done was really subtle… I think people might think I look a little different but couldn't put a finger on exactly why," says Eddie.
Within a handful of days, any swelling or scabbing that had formed and was noticeable immediately following the treatment had vanished. In no more than a week, Eddie was left with discrete and natural-looking results.
As for the results, Eddie shares, "I can see definitely like a fuller hairline on the sides already."
He is aware that there is a regrowth process that can take several months, but after less than two months, his Shave-less FUE treatment already has him happier and more confident with his appearance.
Advice From a Recent Hair Transplant Patient
"I would say make sure you are informed about who's going to be doing the treatment and make sure it is someone who has got a lot of experience with it."
Eddie found Dr. Danyo and North Atlanta Hair Restoration who made him comfortable and confident going forward with his Shave-less FUE procedure.
"There's a lot of people out there that are sort of selling this service through these technicians, and they're not really doctors who are focusing on it," says Eddie.
Eddie not only had his consultation done by Dr. Danyo personally, but his procedure was performed by Dr. Danyo as well. He was never handed off to a random medical technician. This may not have been the case if he had gotten help from a different practice, so it is important to ask questions and do your research.
Don't Settle for Just Any Hair Replacement Doctor
If you are worried about receding hair like Eddie, or your hair loss is taking a toll on your confidence call 678-845-7521 right now. And if you can't make a call, schedule your virtual consultation or in-person appointment online and we'll follow up by text message.
*Name changed to protect client privacy.