Restore Your Hair and Your Confidence
Natural

Each graft is carefully placed by Dr. Danyo and his team.
Shave-Less

Shaving your head is not required for this procedure.
Discreet Shave-Less

FUE does not leave behind any linear scars.
NO-SHAVE/SHAVE-LESS FOLLICULAR UNIT EXTRACTION (FUE)
The No-Shave/Shave-Less Follicular Unit Extraction (FUE) is the most discreet surgical hair transplant procedure available. Unlike conventional FUE procedures, you don't have to shave your head prior to the transplant. Only the actual hairs needed are trimmed and extracted, leaving the surrounding hairs in the donor area their original length. Dr. Danyo then carefully and creatively places each follicle based on its texture and growth pattern to seamlessly blend with your existing hair.
Patients do not suddenly show up with a shaved head or end up with linear scars in the back of their heads. In most cases, your donor site is concealed and you don't need a strange hair cut. As your transplanted follicles begin new growth, your fullest natural hair is restored.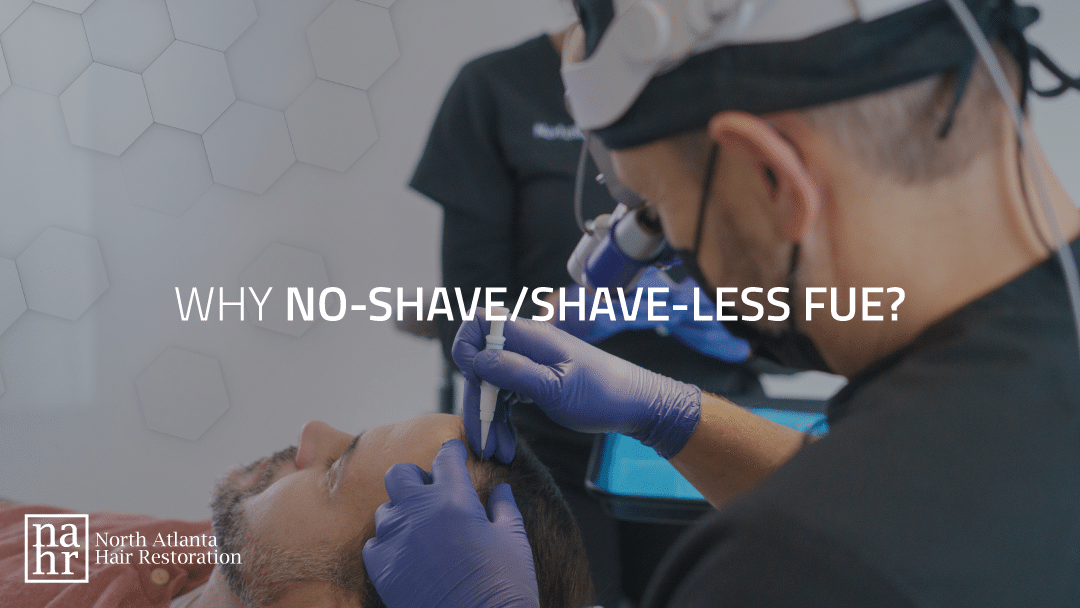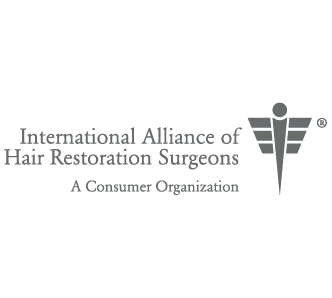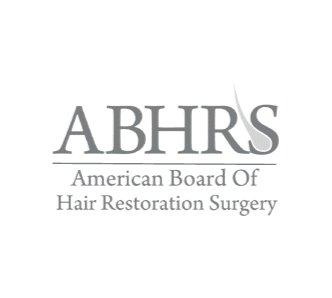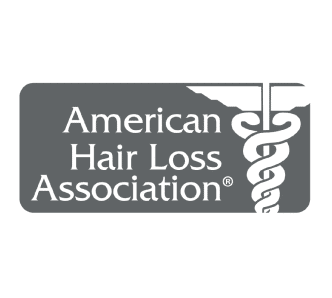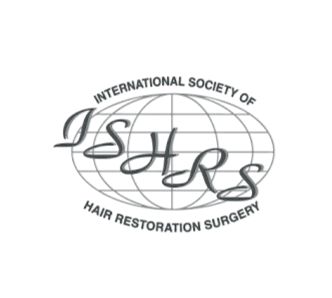 SEE THE RESULTS FOR YOURSELF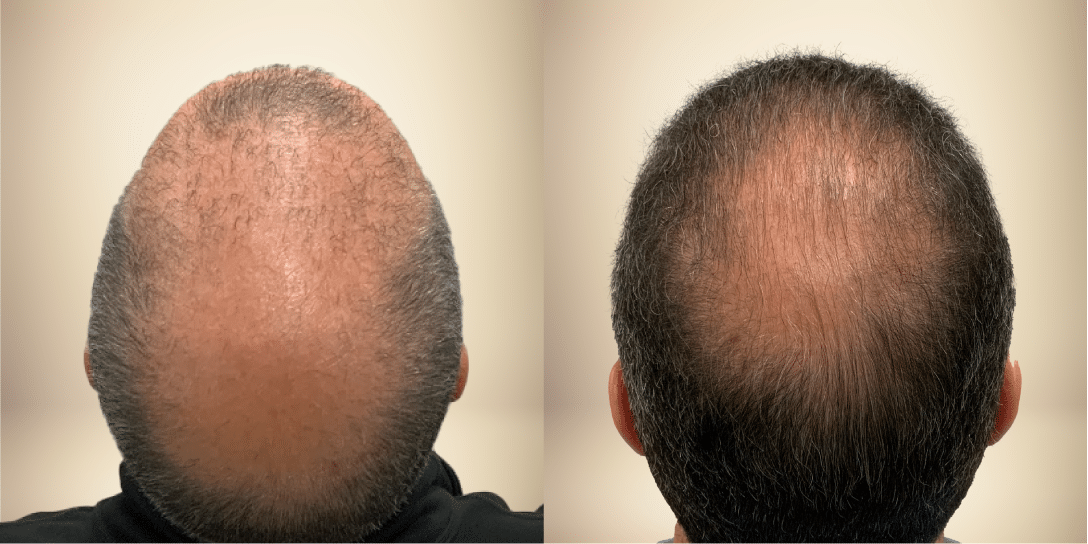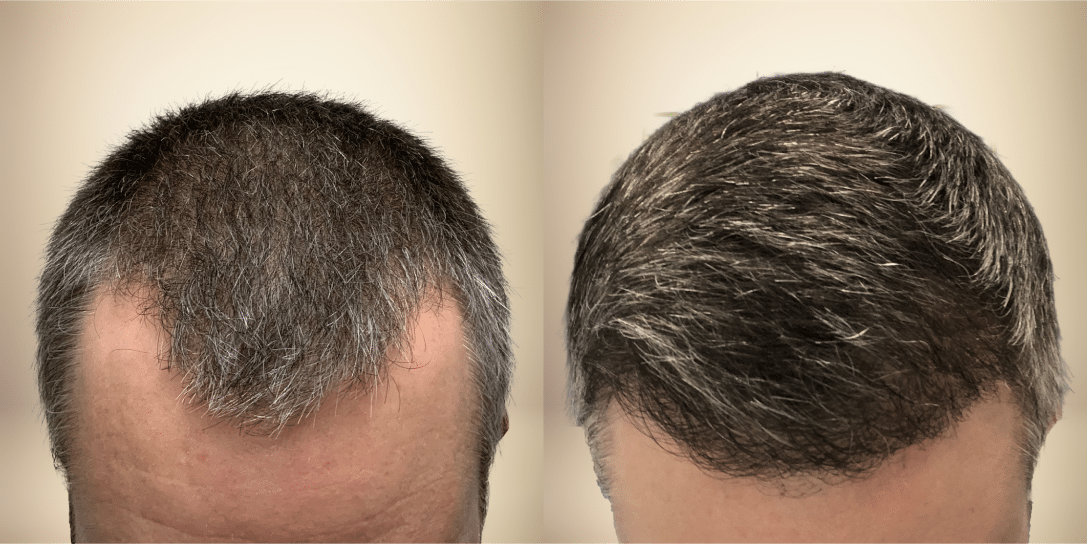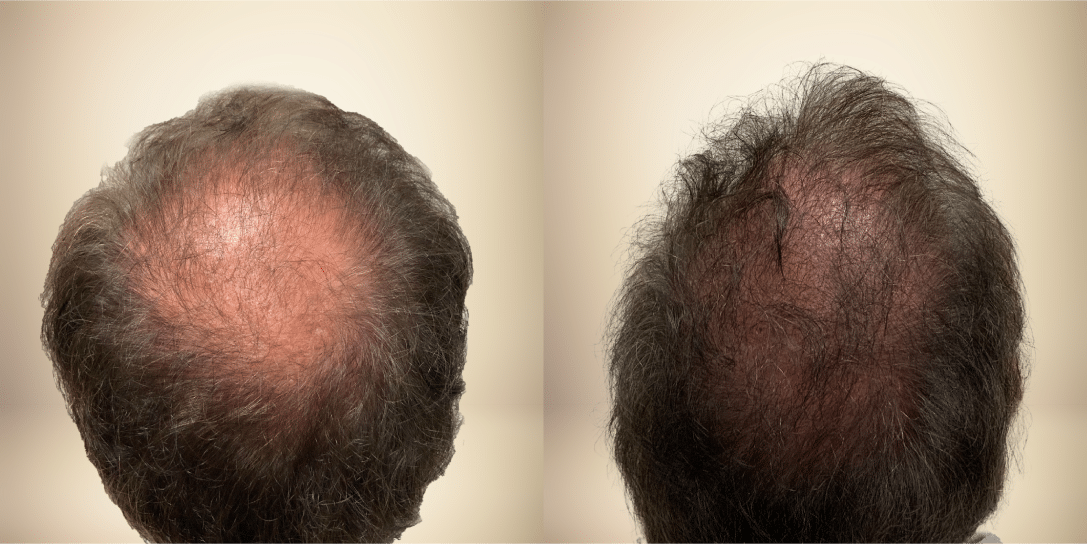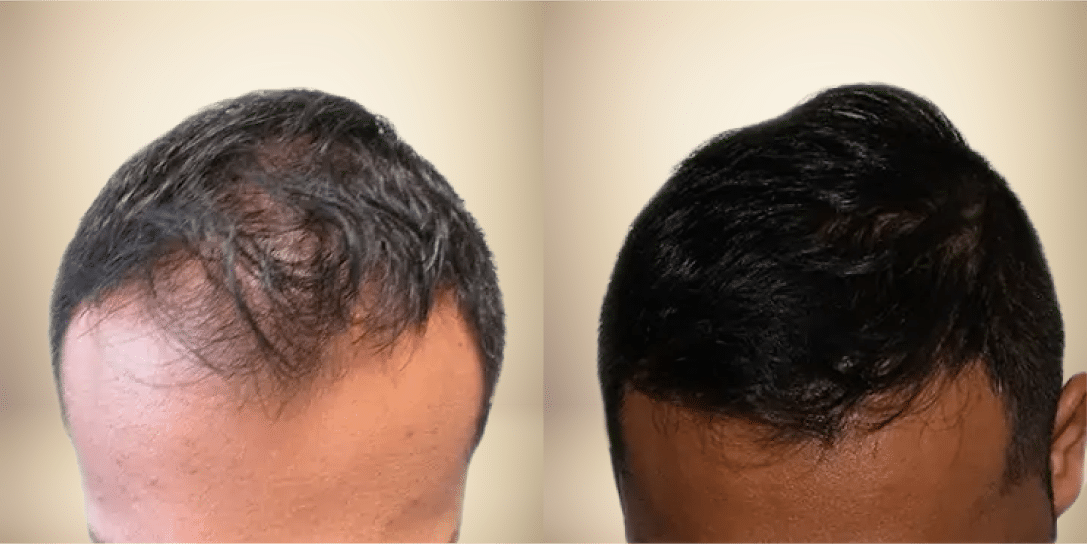 I can't even tell I've had 2500 grafts. Dr. Danyo gave me a Shave-Less procedure. It is very discreet, yet the results are life changing. If you want someone who cares, you're at the right place.

AN ELEVATED OFFICE EXPERIENCE
Come experience the unmatched expertise of Dr. Danyo and North Atlanta Hair Restoration.
THE HAIR RESTORATION PODCAST WITH
DANIEL A. DANYO, MD, MBA
Take a listen to Dr. Danyo tackle misconceptions about the process of hair restoration and share his unique approach to patient care that places him as an industry thought leader in hair restoration.
Discover how Dr. Danyo is using cutting edge technology and techniques from around the world to transform the lives of his patients, empowering them to take control of their appearance with confidence and success.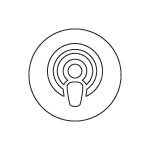 TOP 5 MOST POPULAR EPISODES
WATCH REAL PATIENTS TALK ABOUT
THEIR SUCCESS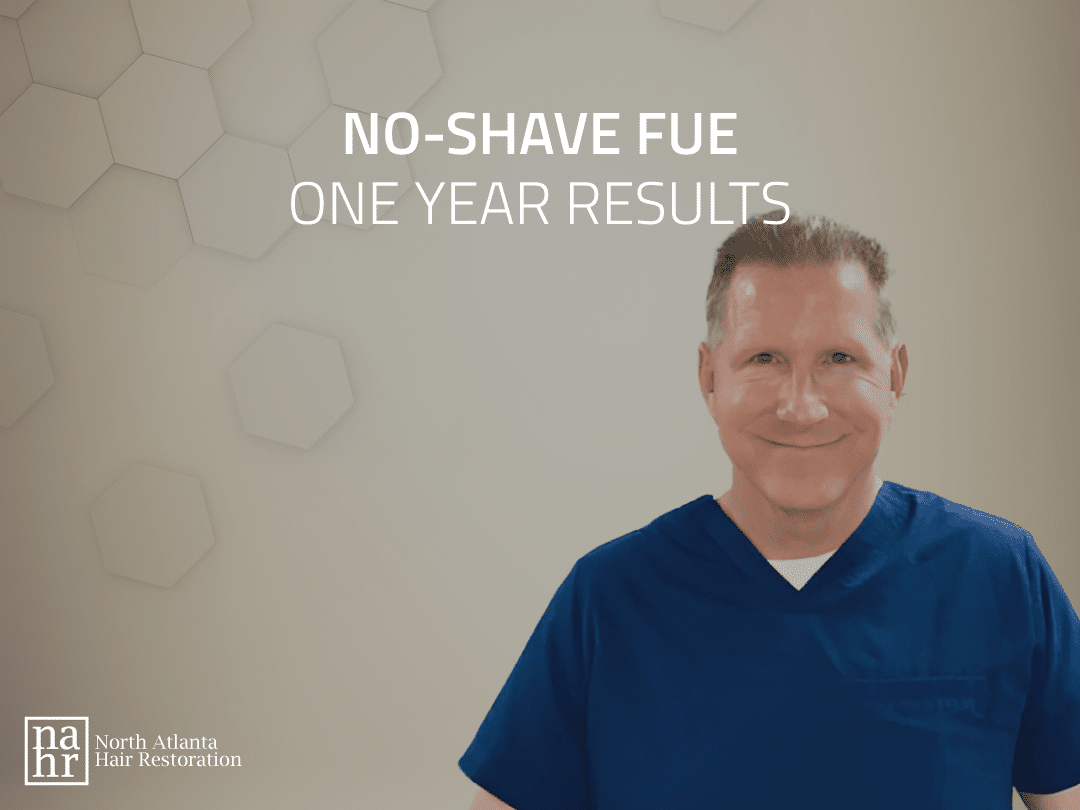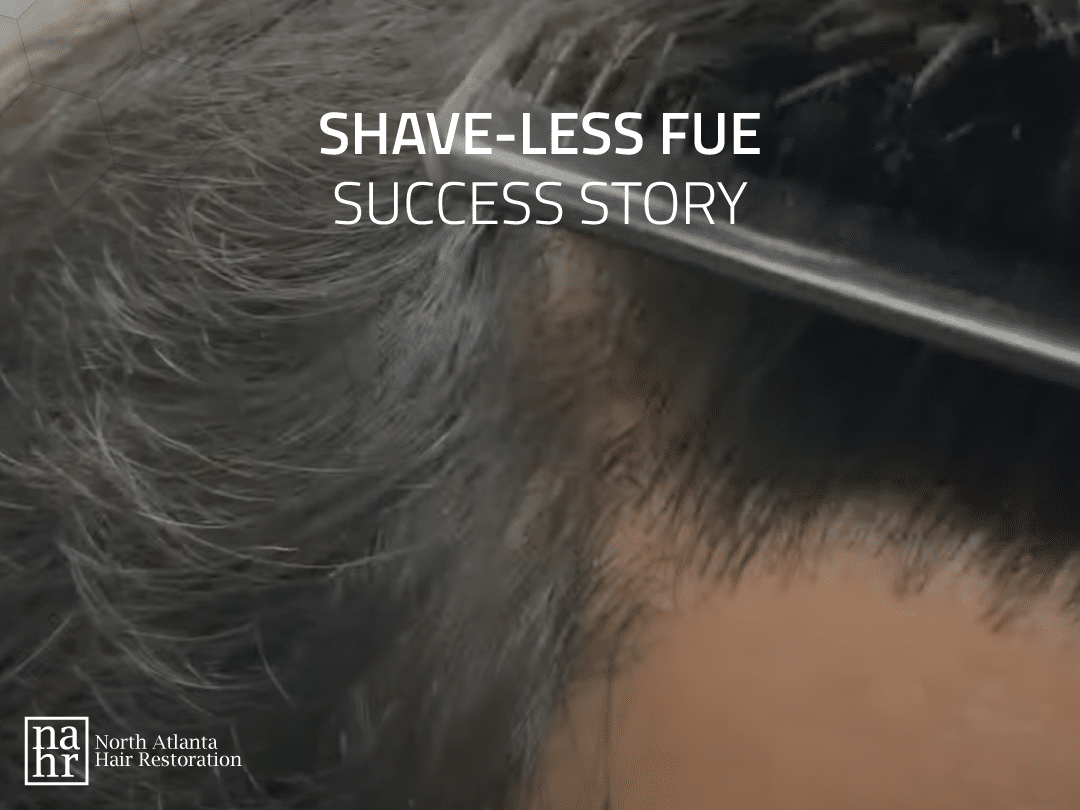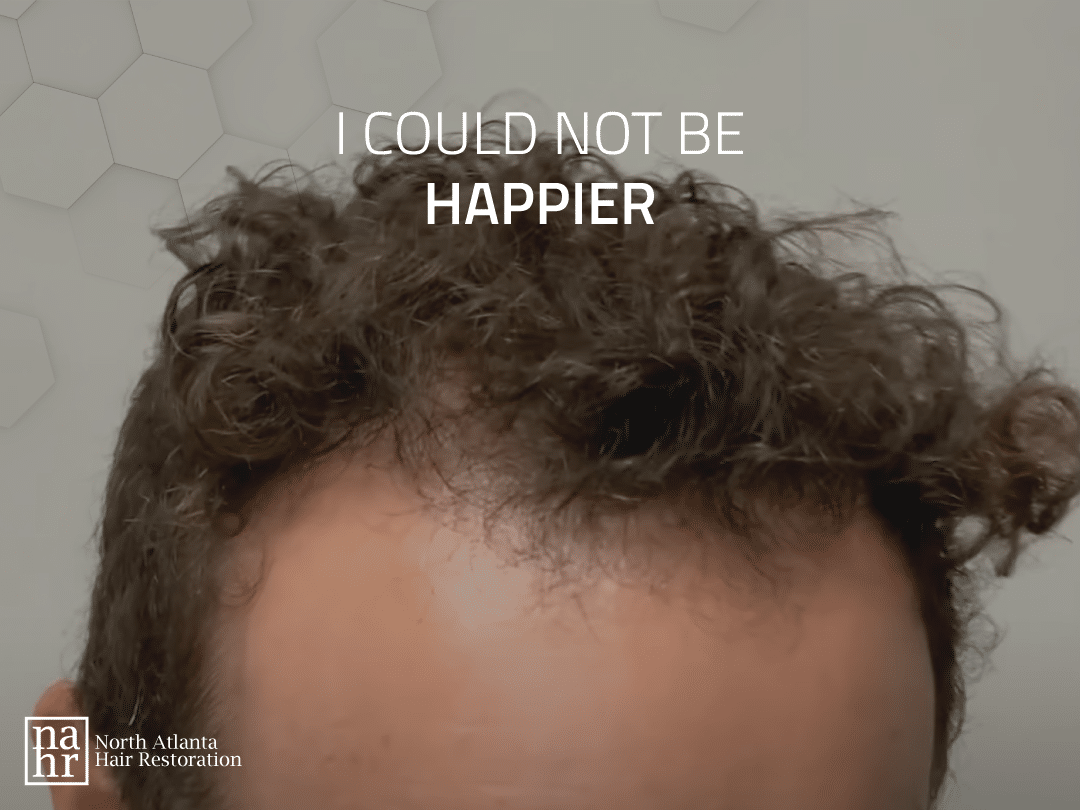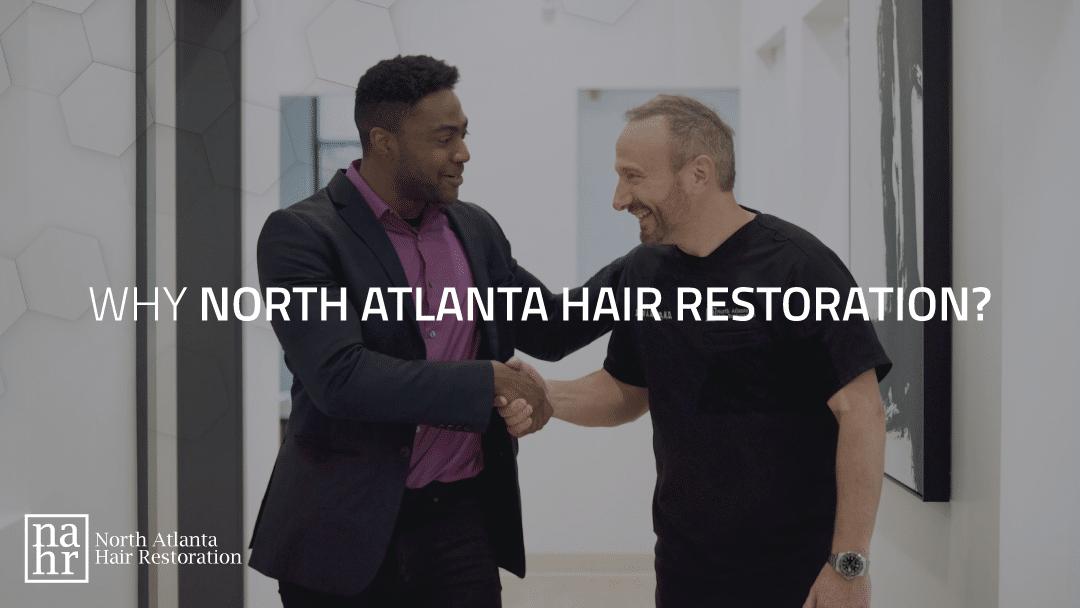 Because every patient is uniquely different, each procedure is quoted individually. Factors influencing price:
Size

The size of the area needing treatment.
Hair

Unique characteristics of your hair (density, texture and growth patterns).
Treatment

The type of treatment that best suits your needs.
If you decide to undergo hair restoration, we'll work with you to determine a custom payment plan. We accept all major credit cards, as well as CareCredit. CareCredit is a healthcare credit card designed to pay for out-of-pocket expenses that medical insurance doesn't cover.
Whatever your financial situation, you deserve to feel confident about the way you look. Our patient coordinator will help you set up a payment plan and financing options so you can get back to feeling like yourself.
PERSONALIZED HAIR SOLUTIONS
TO SUIT YOUR NEEDS
Unlike many offices that rely on a sales team, every patient is evaluated by Dr. Danyo to determine their unique needs before recommending cutting edge solutions.
Pricing for our procedures is determined individually with no surprises or additional charges.
We prepare and follow each patient carefully as they discover a younger version of themselves. Our goal is to make it easy for you by ensuring a medically safe and comfortable experience from beginning to end with results that far exceed expectations.
CLEAN, MODERN AND
RELAXING ATMOSPHERE
North Atlanta Hair Restoration's brand-new facility in Alpharetta, Georgia offers patients an atmosphere to ensure a relaxing, stress-free experience. From the moment you walk in our front door you can feel you are in a different kind of medical clinic.
The décor, the music -- every detail has been designed to give you a sense of calm that allows you to focus on learning all you can and making the best choice for your procedure.
Each treatment room is clean and modern, flooded with natural light, and completely private. Our attentive medical staff is on hand throughout your procedure to see to your comfort.
By creating a space that is aesthetically pleasing, we set the stage for optimal treatment outcomes designed to make our patient's look and feel their best.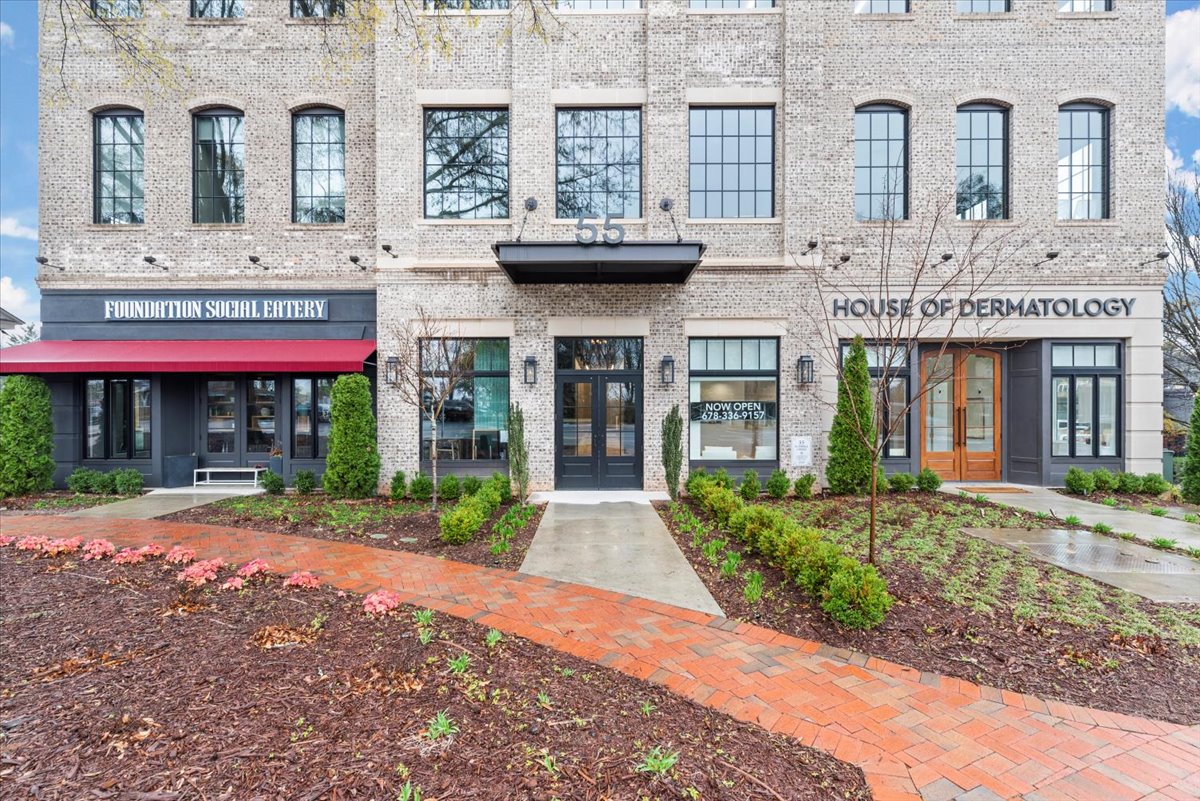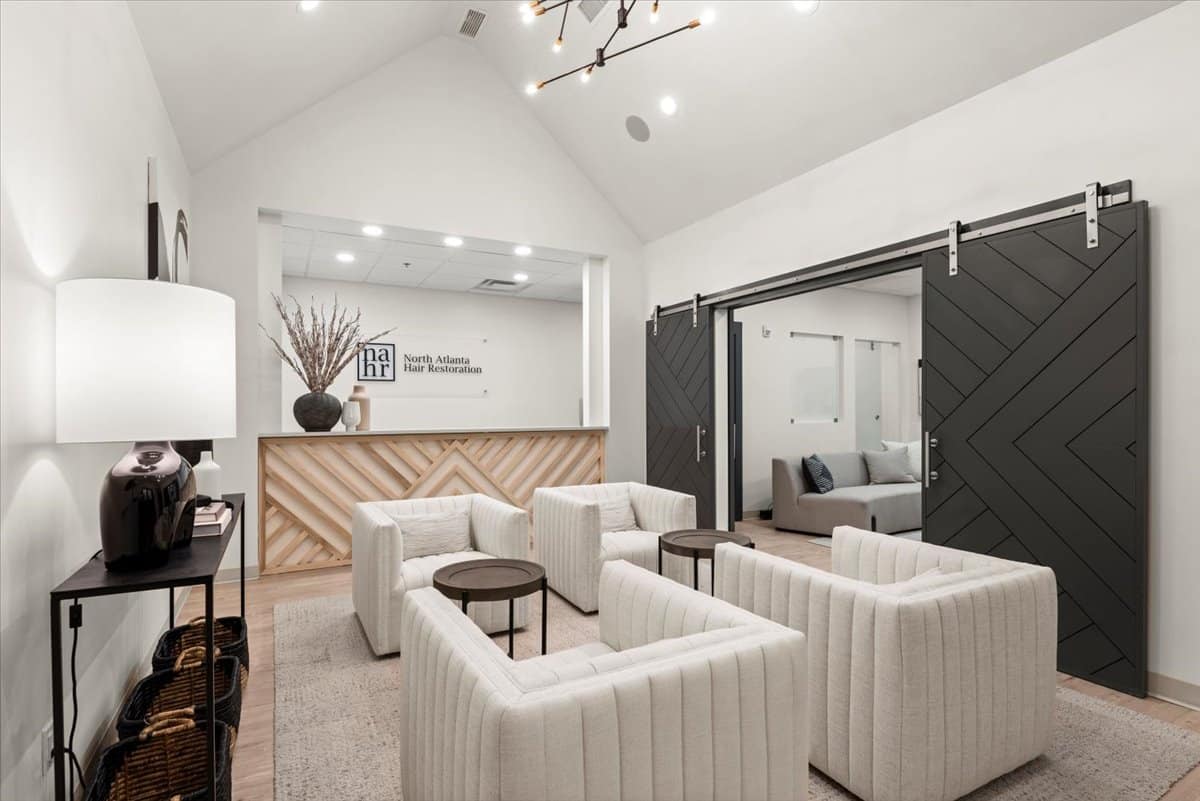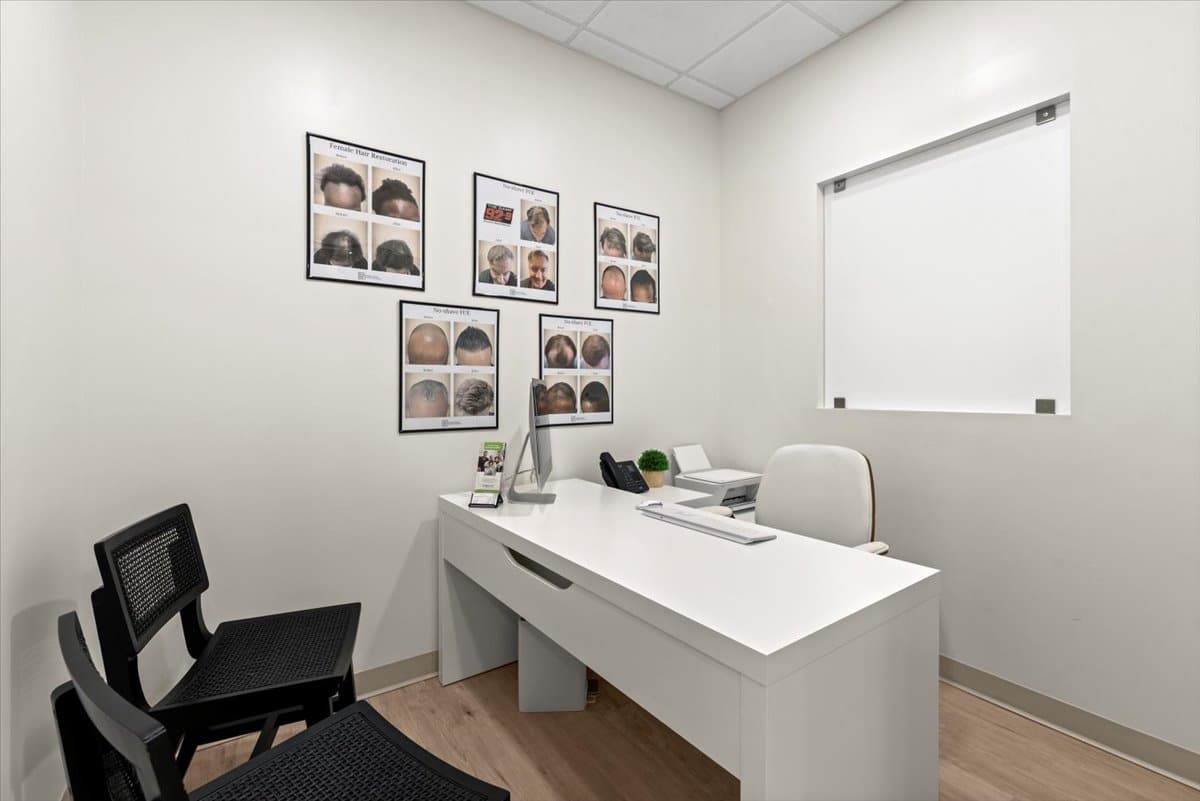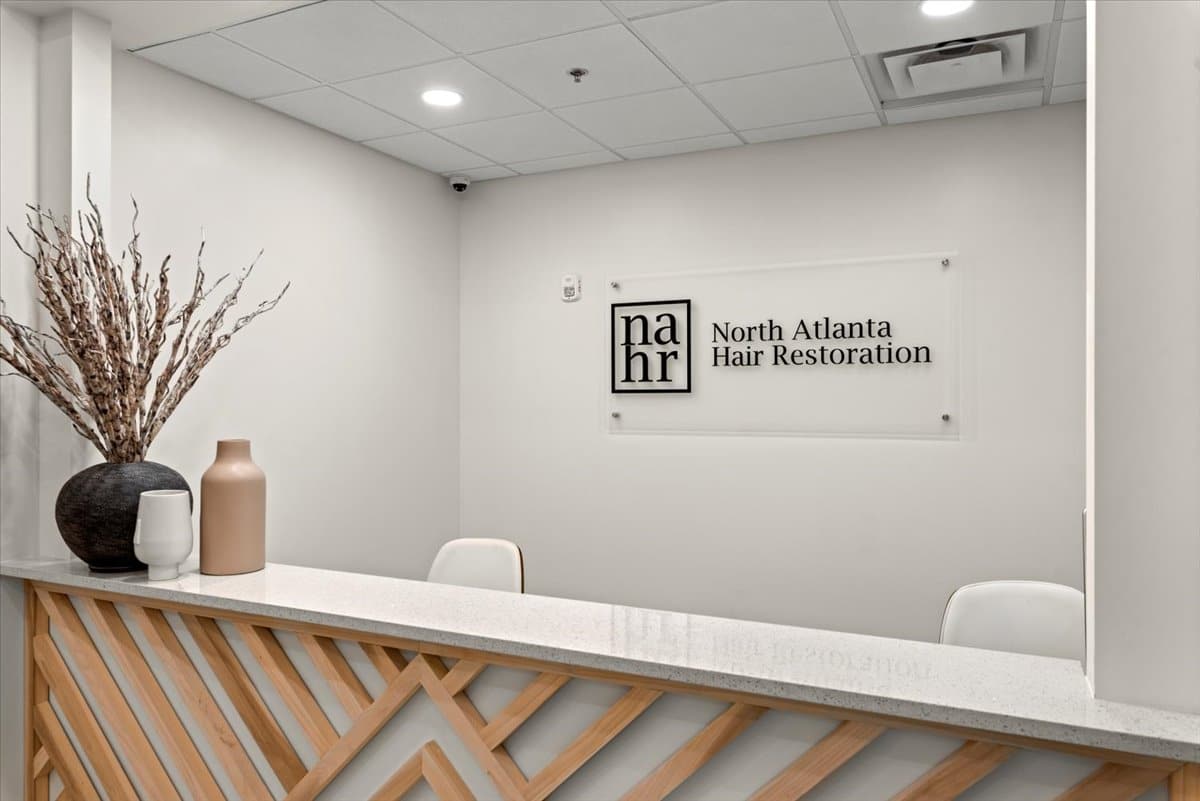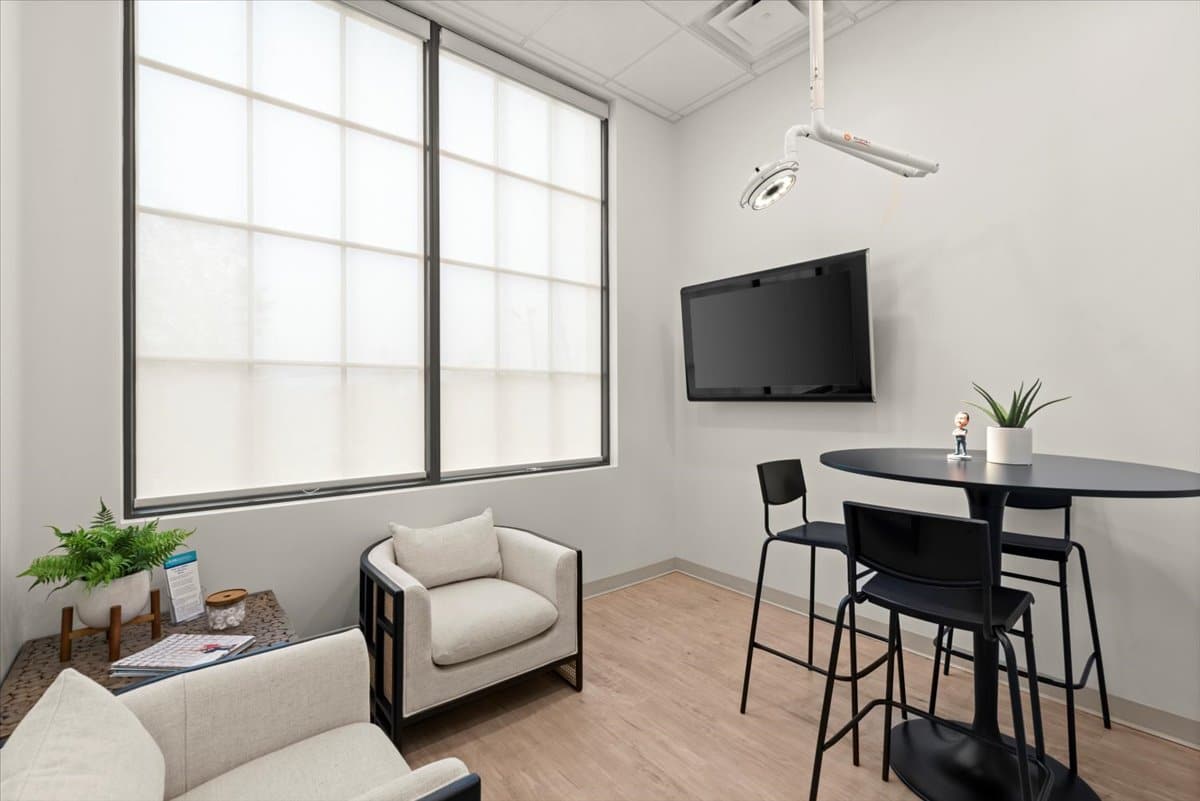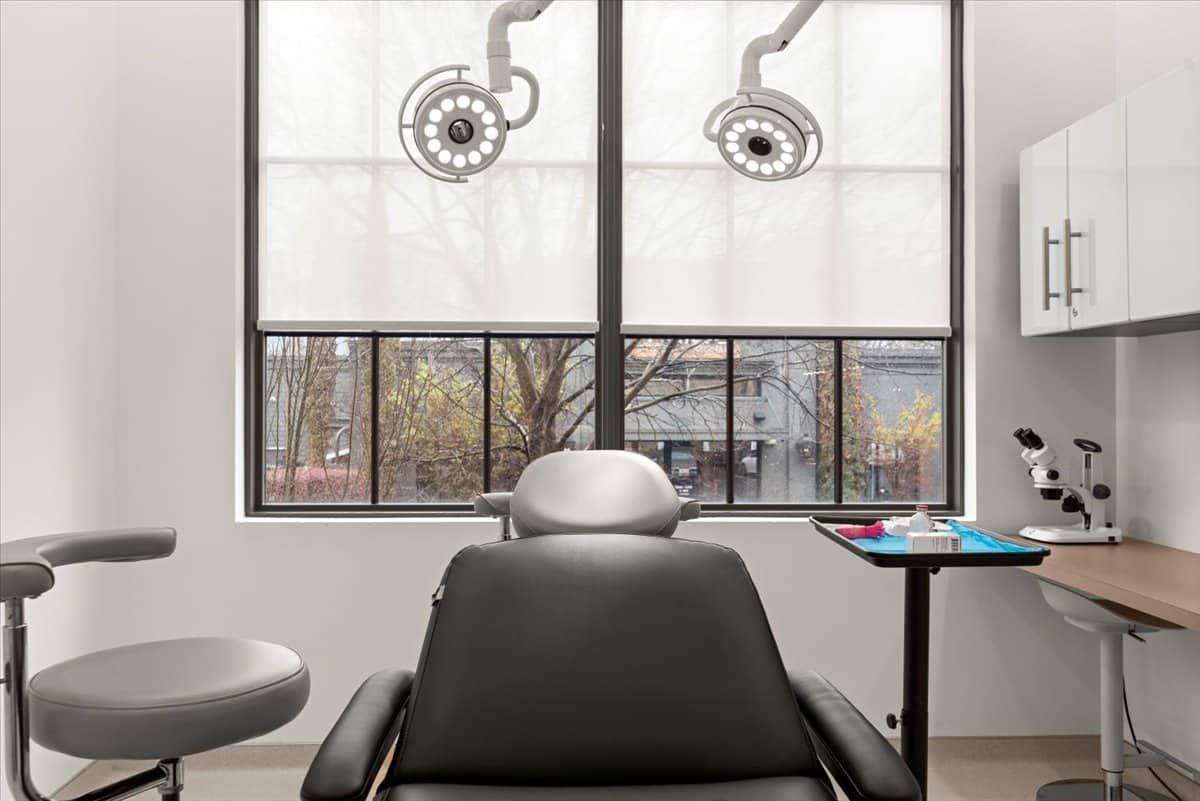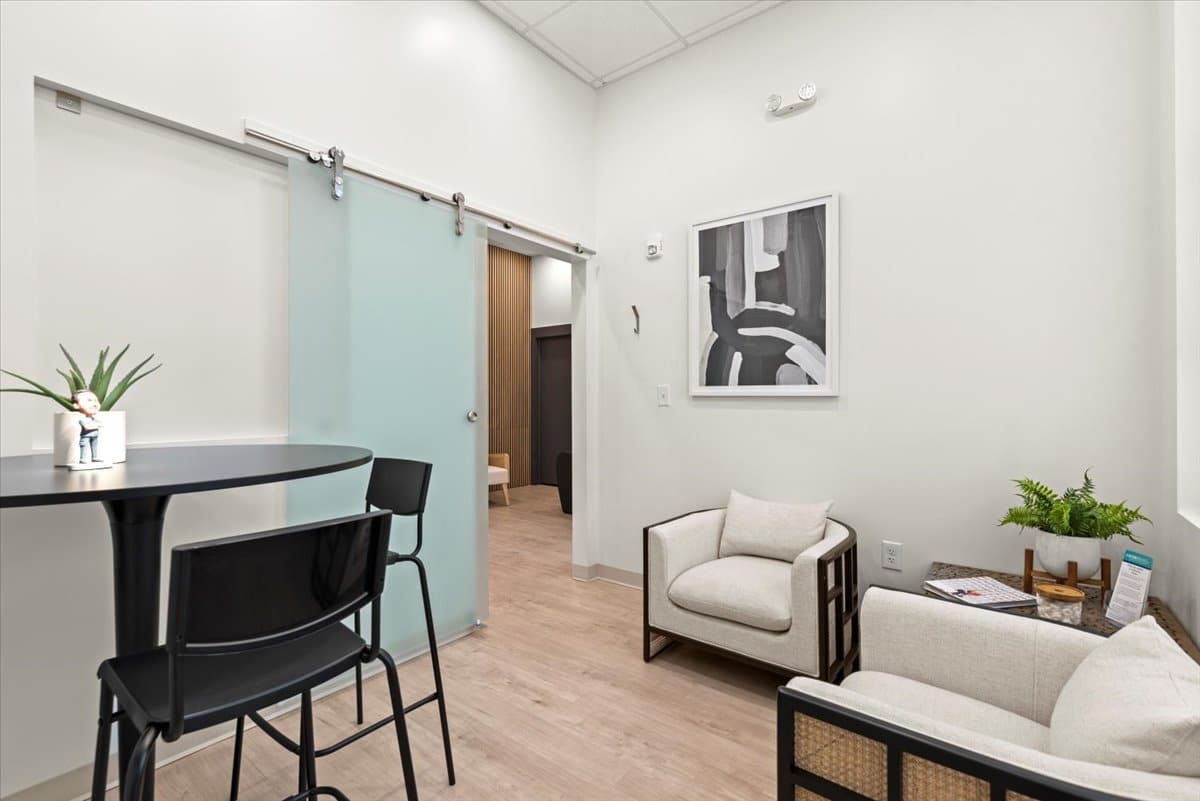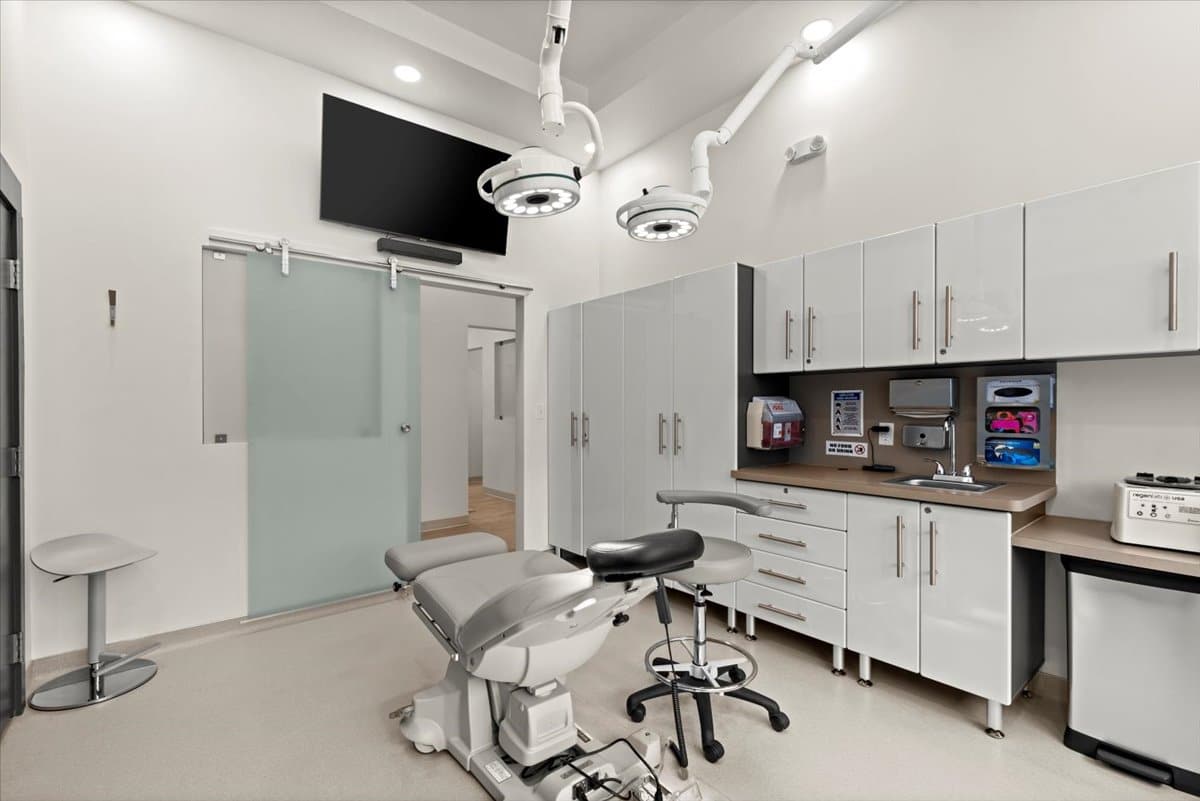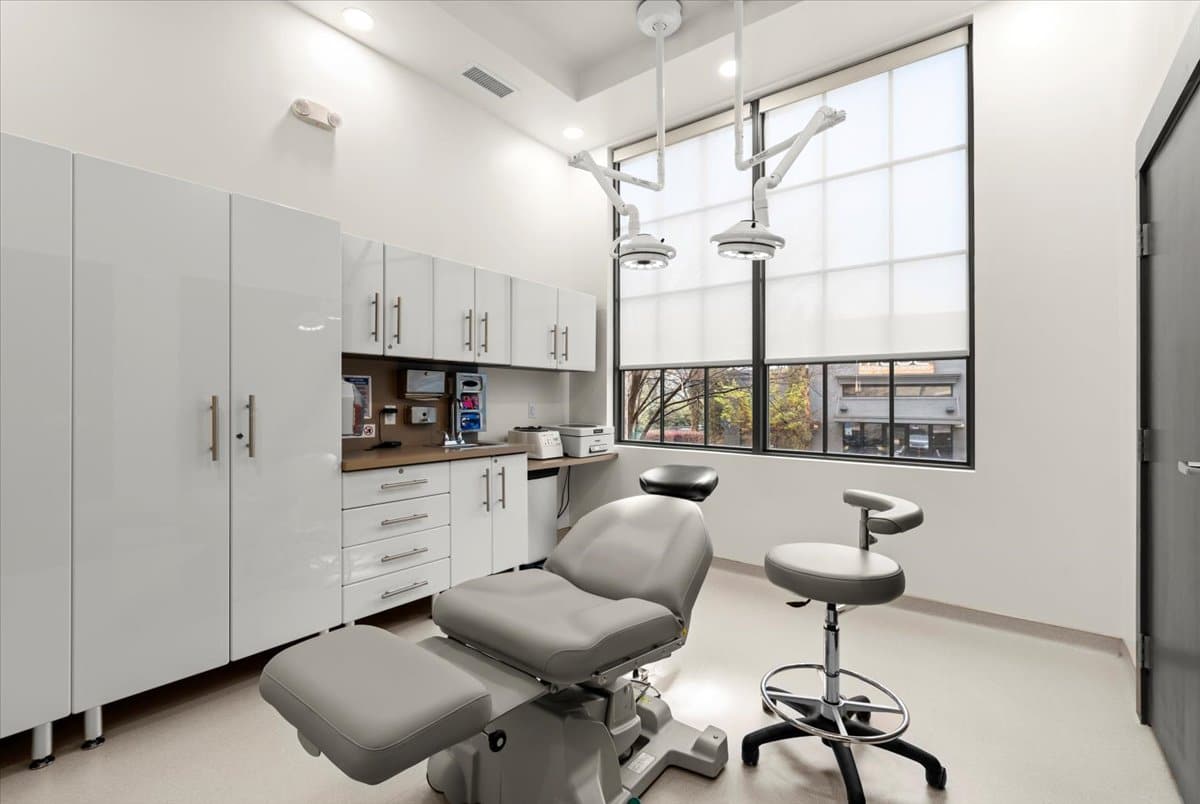 EXPERTISE, SKILL AND ARTISTRY
Driven by his dedication to forming a unique personal experience Dr. Danyo has become a pioneer in the
No-Shave/Shave-Less FUE procedure that restores the patient's thickest natural hair
growth, without the need to shave any part of the scalp. Results leave no tell-tale scars.
Expert in No-Shave/Shave-Less FUE, results are invisible the next day.
Certified by the American Board of Hair Restoration Surgery.
Member of the International Alliance of Hair Restoration Surgeons, a consumer organization committed to excellence within the hair restoration industry. Members of IAHRS are deeply vetted for professional conduct.
Personally performed over 4 million plus successful hair grafts.
Designs hair restoration in one-on-one consultation with patient.
He and his licensed medical providers extracts and places each graft.
Expert in Using Direct Hair Implantation.
Expert in Platelet Rich Plasma (PRP) injection therapy.
Expert in the use of body hair transplants for beard and body scalp restoration.
Expert in beard and eyebrow repair.
Expert in non-invasive hair restoration options.
Repaired hundreds of procedures performed by others.
Procedures are performed in a safe, spa-like environment under physician supervision.
Offers both surgical and non-surgical solutions.
Successfully answers all hair restoration questions on his podcast.
SEE THE RESULTS FOR YOURSELF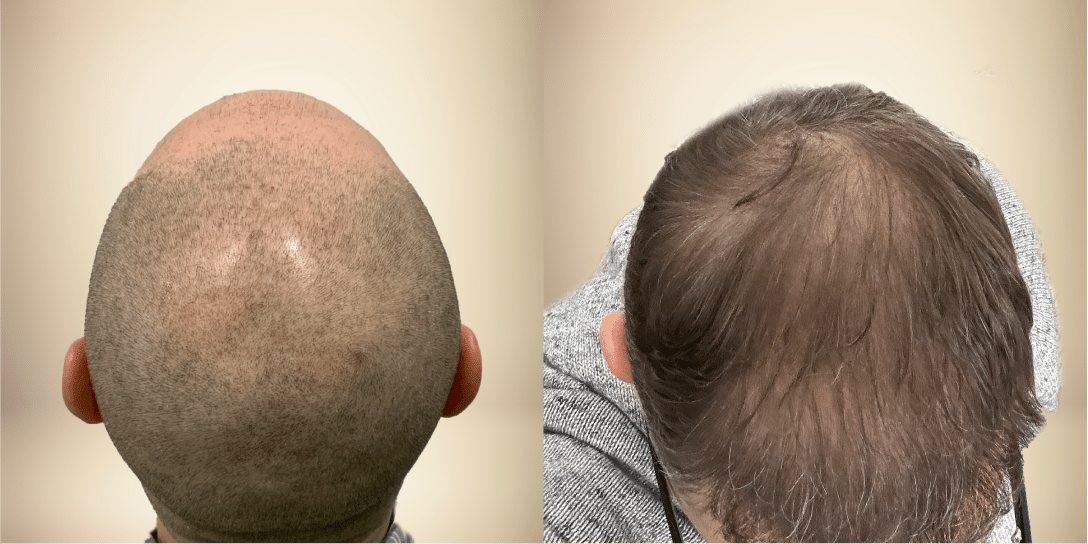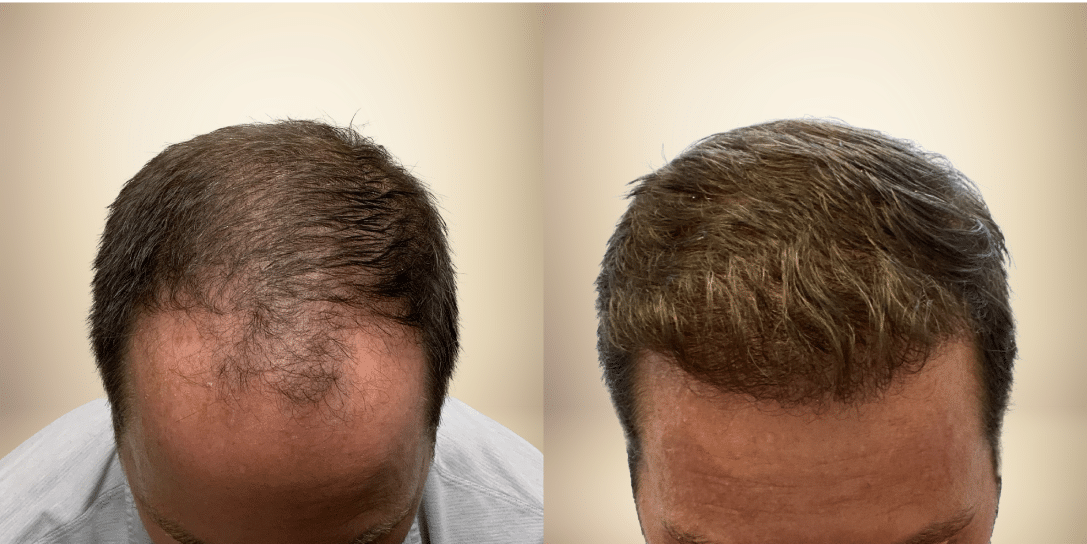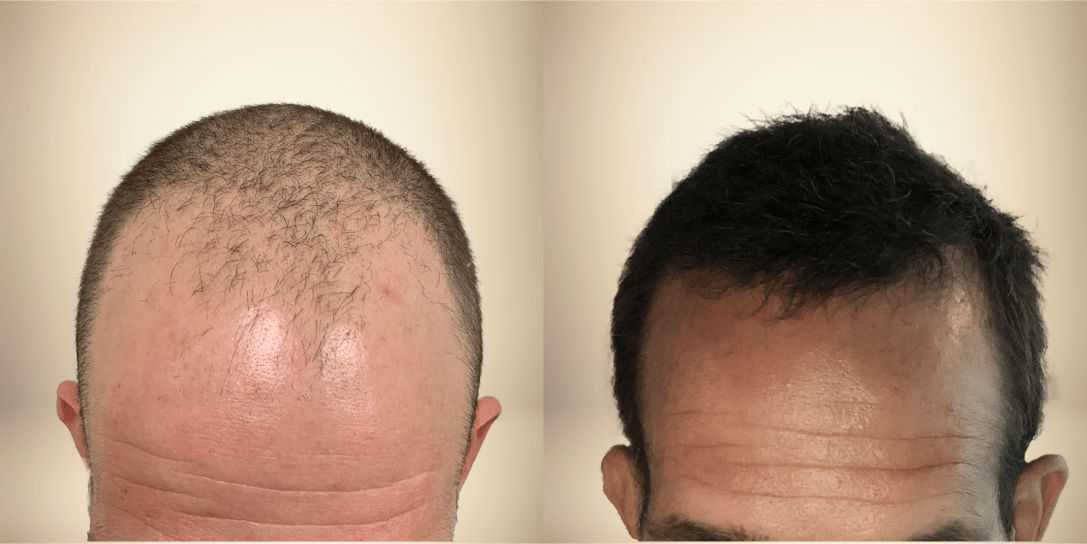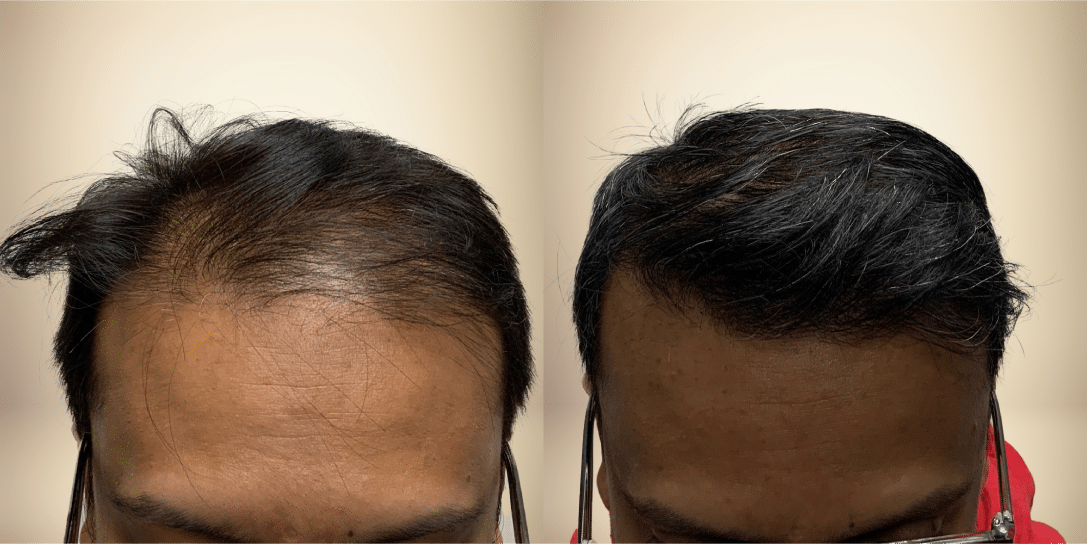 Excellent doctor and staff. Very courteous, responsive and professional. Top notch experience, highly recommend!