"It is a terrible scenario when someone has a hair transplant and they don't even want to take a hat off to have people look at them," shares Dr. Danyo.
Common Hair Transplant Issues and How to Fix Them
Episode 18 of the podcast, "Hair Restoration with Dr. Daniel A. Danyo," covers five main reasons people seek a hair transplant repair.
There are five main reasons that people seek a repair. These situations include:
A bad outcome from a hair transplant
Strip scars
Past plug transplant
A procedure was done overseas
Full hair loss and wants full coverage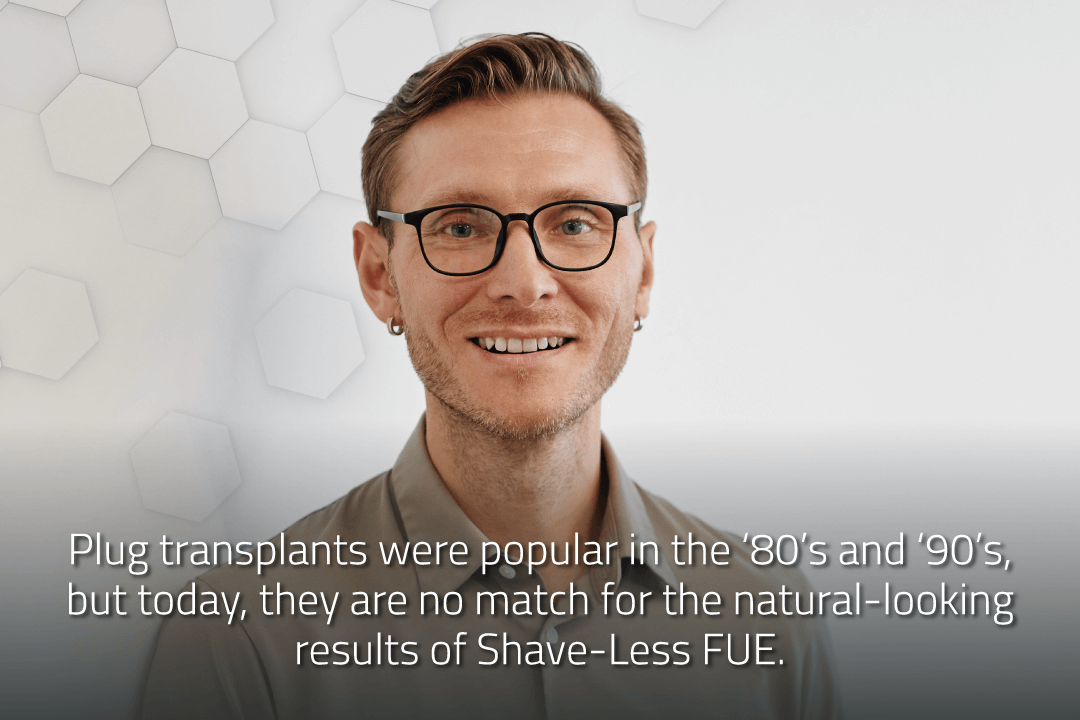 A Bad Outcome from a Previous Transplant
Often, people go to Dr. Danyo, and their frontal hairline was poorly done. The angulation is off, and the hair looks flat. Or patients have big chunky grafts upfront that looks more like plugs than a soft hairline. Sometimes there was no return, and their 2,000 grafts look like 1,000 grafts.
Every case is different, and there are many solutions. Dr. Danyo may fix the issue by taking out some grafts and redoing the hairline to create a softer appearance with more shape or adding to the grafts already present to make it look more quantified.
Strip Scars
Dr. Danyo specializes in FUE procedures that are discrete and leave no linear scarring. However, when someone undergoes a FUT procedure, they may have scars that go ear to ear.
"I feel that these scares are always an issue and just pose too much of a challenge and limitation in how you want to style your hair," says Dr. Danyo.
Dr. Danyo has seen cases that are so bad that the scars are almost an inch wide. To fix this, Dr. Danyo helps make the scar contract and then adds grafts to conceal the donor sit. Other fixes may include scalp micropigmentation in addition to grafting.
Plug Transplants
Plug transplants were popular in the '80's and '90's, but today, they are no match for the natural-looking results possible with treatments such as Shave-less FUE.
Plug transplants create an appearance like that of doll hair. Luckily, this is very easy to correct by grafting a portion of those groupings to develop a natural and full appearance.
Procedures Overseas
Patients that travel overseas for a hair transplant often return extremely over grafted. While it may be convenient only to undergo a single procedure, splitting up the grafting over multiple procedures is often best.
Full Hair Loss
Dr. Danyo understands that hair loss is frustrating. Having undergone a hair transplant himself he understands that there are a lot of emotions that come with hair restoration.
It is entirely normal to be upset or frustrated if you need to undergo repairs. Whether you are dealing with alopecia, like some of Dr. Danyo's clients, or a previous procedure exhausted your donor site. It can be hard to be optimistic.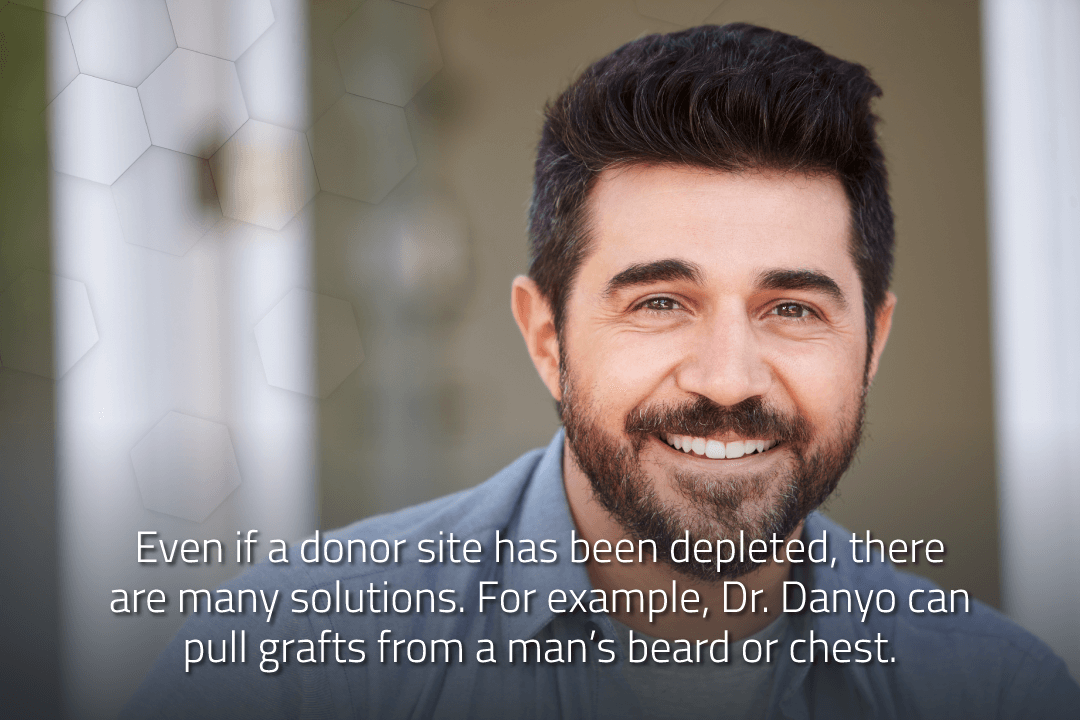 "I think it is ethical and more professional to say, 'listen, we are going to build on what's been done, and we are going to make it better,"' explains Dr. Danyo.
Even if a donor site has been depleted, there are many solutions. For example, Dr. Danyo can pull grafts from a man's beard or chest.
It's Time to Get Your Life Back
Don't live your life scared to remove your hat. North Atlanta Hair Restoration is a boutique medical practice dedicated to diagnosing and treating both male and female hair loss. Call 678-845-7521 or click here to schedule your consultation with Dr. Danyo right now.
To learn more about this show and to follow along with our journey, please rate, review and follow this podcast wherever you listen to your audio content including Apple Podcasts, Google Podcast, and Spotify.