Hair restoration surgery is a popular and effective solution for hair loss, and many people have experienced truly transformative results with the latest techniques.
But a lot of people looking for hair loss solutions don't know a lot about what it is, what to expect, and who can benefit from having hair transplant surgery.
With that in mind, we've put together a list of questions people often have about the procedure.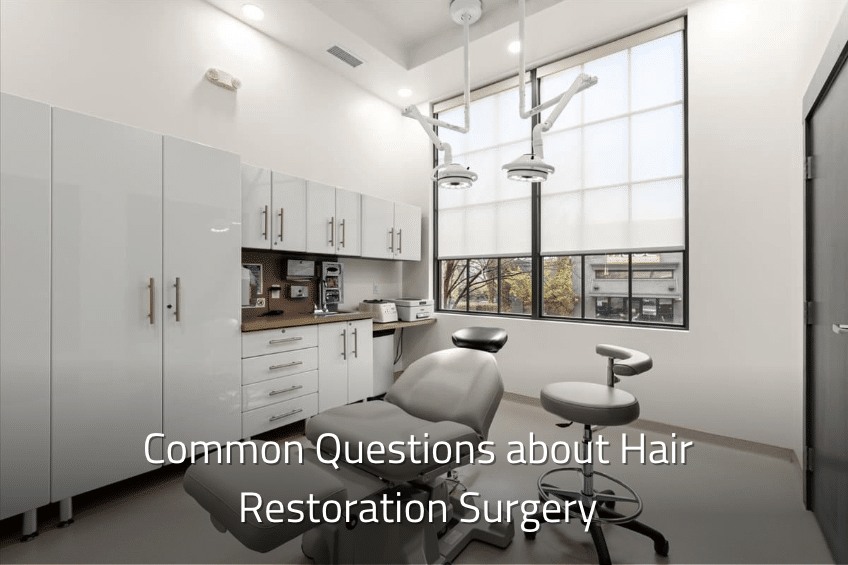 Common Questions about Hair Restoration Surgery
How Does Hair Restoration Surgery Work?
Hair restoration surgery works by surgically removing viable hair follicles from one part of the body and transplanting them to another.
The most common type of hair transplant surgery is for hair loss on the head, but hair restoration surgery can be used to remedy hair loss almost anywhere on the body.
Other common hair restoration procedures include eyebrow and beard hair restoration.
Where Does The Newly Transplanted Hair Come From?
Hair for a transplant at the hairline or crown will often come from thicker areas at the back of the head.
If the patient has severe hair loss, the donor sites may come from other areas of the body like the chest or beard.
An experienced hair transplant surgeon will know how to choose the best donor sites, how to responsibly and discreetly harvest the hair follicles, and how to place them for maximum aesthetics and viability.
Am I a Suitable Candidate For Hair Restoration Surgery?
Many people are suitable candidates for hair restoration surgery at various ages and levels of hair loss.
A common misconception about hair restoration surgery is that it's only for older people, for those with advanced hair loss, or mainly a solution for men.
The fact is that younger people just beginning to experience hair loss can benefit greatly from early surgical intervention.
And, contrary to popular belief, hope is not lost for those who have had previous unsuccessful transplants or those with extremely advanced hair loss.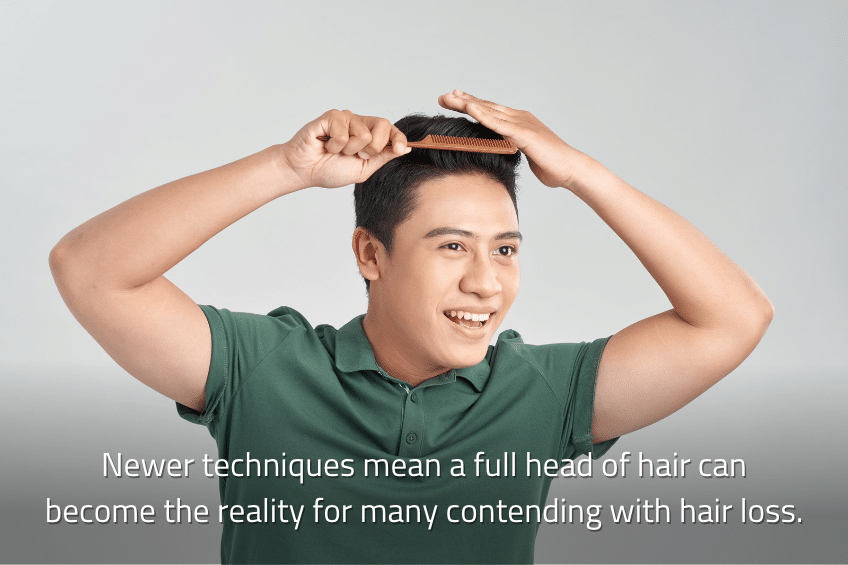 Newer techniques mean a full head of hair can become the reality for many contending with hair loss.
Moreover, many women are seeking this transformative treatment for things like age and illness-related hair loss, traction alopecia, hereditary hair thinness, thin brows and more.
Hair restoration surgery can help people facing many hair loss issues, and the best way to find out if you might be a good candidate is to be assessed by a medical hair restoration expert.
What Are the Different Techniques Used In Hair Restoration Surgery?
The two most common techniques used in hair restoration surgery are follicular unit transplantation (FUT) and follicular unit excision (FUE).
FUT, also known as strip transplantation, is an older method involves cutting out a small strip of skin from the scalp and transplanting it to another area. In contrast, FUE extracts individual follicles and surgically places it where it needs to go.
Of the two, FUE is generally considered a superior choice due to greater follicle viability, less scarring, minimal heal times and a more natural appearance at both the donor and transplant sites.
Another notable advantage of FUE is the availability of a No-Shave or Shave-Less FUE option, where the head doesn't have to be shaved.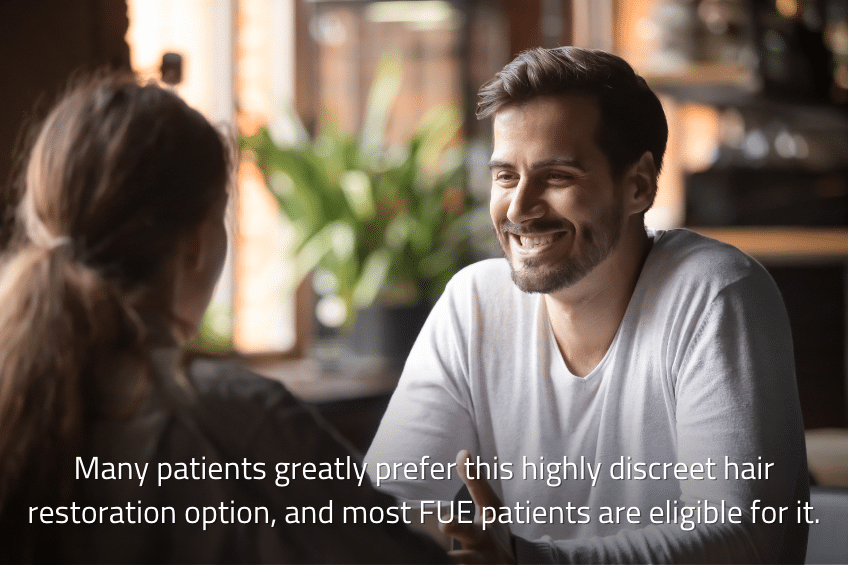 Many patients greatly prefer this highly discreet hair restoration option, and most FUE patients are eligible for it.
New advances and tools for FUE surgical hair restoration have made this technique faster, easier and more effective than ever.
What Are the Potential Risks and Complications?
The potential risks and complications of hair restoration surgery are generally minimal, but they may include the following:
Bleeding and swelling
Scarring
Infection
Follicle death/low viability
Nerve damage
As concerning as some of these are, serious complications are quite rare, and they can be further minimized by having the procedure done by an experienced surgeon properly trained in the latest techniques.
Many hair loss clinics allow technicians, rather than actual surgeons, to perform hair restoration surgeries — but not North Atlanta Hair Restoration.
All hair restoration surgeries at North Atlanta Hair Restoration are performed by Dr. Daniel A. Danyo himself, assisted by his highly trained surgical staff. 
What is the Recovery Process Like?
The recovery process after a FUE procedure at North Atlanta Hair Restoration is fairly easy, discreet and painless, although you should expect to experience some tenderness and scabbing.
FUE procedures at North Atlanta Hair Restoration do not require bandages, but other providers may use them.
Because Dr. Danyo uses precise pen implantation, the grafts are very secure and you can wash your hair normally and even wear a hat right after the procedure.
You'll need to avoid strenuous exertion and exercise for the first 4 days, but you can remain active and return to work.
During this early period, the doctor recommends washing hair twice a day with baby shampoo for good hygiene, fast healing and minimal scabbing.
After day 7, you're allowed to resume your regular exercise regimen, and by day 10, all the scabs should have fallen off.
How Long Does It Take To See Results?
After your transplant, expect shedding of old hair growth from the transplanted follicles — this means the grafts are functioning normally.
You should see new growth in 3-4 months, with hair density building gradually over the next 12 to 15 months.
At this point, you should be able to see the final results from your transplant.
Know that multiple transplant procedures may be necessary to achieve the look, volume and thickness you desire.
But the good news is the results from hair transplant procedures are usually permanent — and any new hair loss can often be remedied with subsequent procedures.
A personalized consultation with a hair loss expert can give you an idea of what to expect, how long it will take to get it and whether you are likely to require more than one procedure.
How Much Does Hair Restoration Surgery Cost? 
Depending on which procedure you get, how many grafts you need, and where you get your surgery, hair restoration can cost between $3000 and $15,000.
Most insurance plans do not cover hair restoration surgery, but financing may be available from your provider.
North Atlanta Hair Restoration offers custom payment plans and accepts Care Credit, along with most major credit cards, for payment.
Wondering If Hair Restoration Surgery in Atlanta Might Be Right For You?
Call Dr. Daniel A. Danyo for a personalized consultation. Dr. Danyo is a renowned hair loss treatment specialist certified through the American and International Board of Hair Restoration Surgery.
He and his team at North Atlanta Hair Restoration can walk you through all your options, let you know what to expect and help you take the next steps.
Book online here or call us at 678-845-7521 to schedule a virtual or in-person consultation.