This article was updated August 2020.
A Hair Restoration Doctor Explains
FUE stands for Follicular Unit Excision. If you've been researching hair restoration techniques, chances are it's come up: a method where healthy hair follicles are harvested from areas around the sides and back of the patient's head, where the hair usually grows thicker, and reinserted into thinning areas.
FUE is less intrusive than older techniques, like FUT (Follicular Unit Transplant), which involves removing a strip of scalp and leaves a linear scar.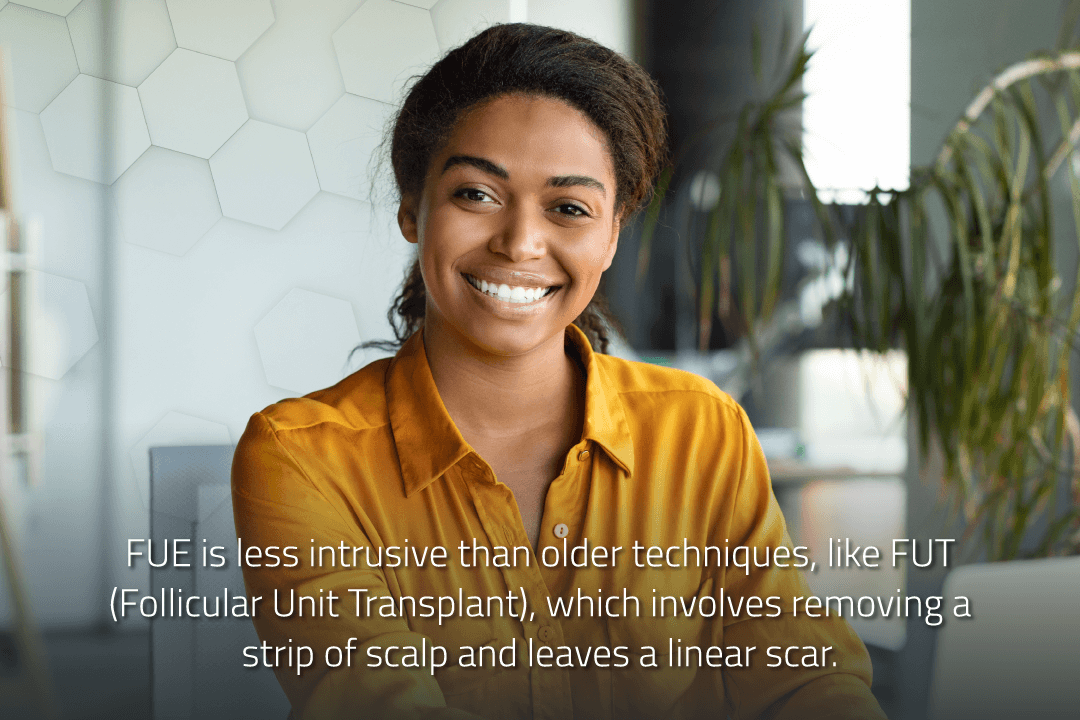 FUE is much less painful, requires less recovery time, and does not result in the telltale linear scarring that's typical of FUT procedures. There is one downside, though: with traditional FUE, a strip of hair needs to be shaved. Most patients have the whole head shaved, to even things out.
Some people don't mind shaving their heads. But for many, this isn't an option. Women experiencing hair loss are generally not willing to go this route, and many men prefer to avoid it as well.
That's where Shave-less FUE or as it is sometimes called No-shave FUE comes in.
Benefits Of A Shave-Less FUE (No-shave FUE) Transplant?
The large majority of our patients want a fuller head of hair, but they don't want anyone to know they've had hair restoration done.
With Shave-less FUE, that's entirely possible.
This is one of the most discreet hair restoration techniques available, and most patients resume normal life within a few days of the procedure with no one the wiser.
As with traditional FUE, the procedure begins with harvesting individual hair follicles from the donor site where the hair grows thickest. But unlike the traditional method, the surrounding hair is left long.
This method is minimally invasive, very effective, and almost completely invisible. Your existing hair stays where it is, and you're not left with a large patch of shaved scalp or a linear scar.
As with traditional FUE, patients may experience some small, red bumps and scabbing immediately after the procedure.
This is normal, and usually resolves within a few days. In the meantime, it can be concealed under your existing hair.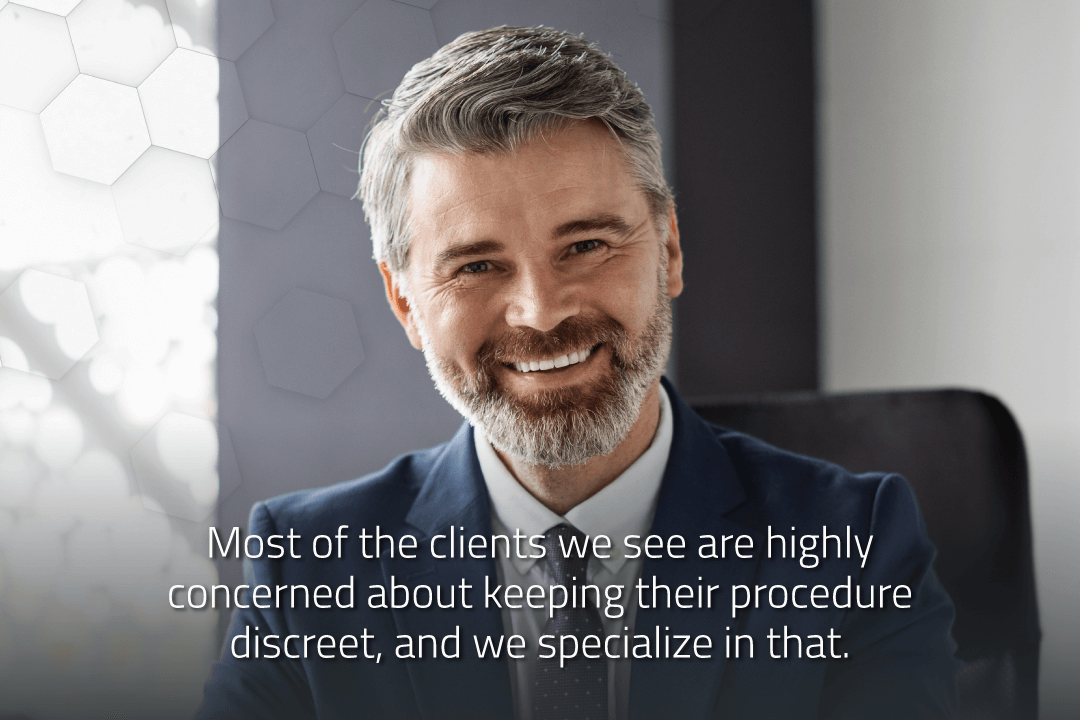 How Does Shave-less FUE Work?
Most of the clients we see are highly concerned about keeping their procedure discreet, and we specialize in that.
Our technique makes the result even more difficult to spot.
The most common method of performing Shave-less FUE is to make small incisions in the scalp to implant follicles in small clusters.
Dr. Danyo takes a different approach, using a pen implanter to extract and reinsert one hair follicle at a time working in between existing and thinning hairs—without the need to shave the graft area.
This is a painstaking process, and Dr. Danyo handles each procedure personally.
The incisions are miniscule, and result in less pain and swelling, quicker healing, and a more natural-looking outcome.
Schedule a Consultation
If you'd like to restore your hair to its fullest natural state, and want a discreet solution, we can help.
Dr. Danyo is one of a handful of providers in the country who performs every procedure himself, from start to finish.
The result is an outstanding record of success for even the most challenging cases.
Schedule a confidential conversation either online or in person. Dr. Danyo will speak with you personally, evaluate your hair loss, and help you decide whether Shave-less FUE is right for you.