Experts estimate that 42% of men aged 18-49 experience moderate to extensive hair loss.
The percentage increases with age, going from 16% for men 18-29 up to 53% by age 40-49.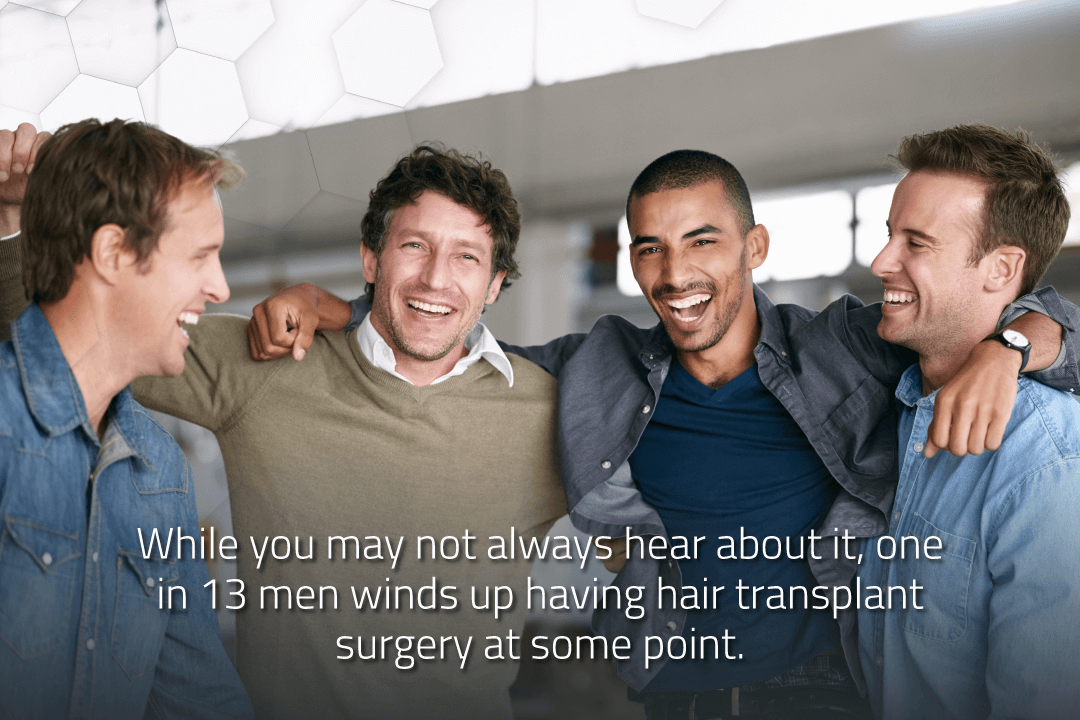 While you may not always hear about it, one in 13 men winds up having hair transplant surgery at some point.
Your Hair Loss Treatment Options Are Better Than Ever Before
And it's not just men. 13% of patients seeking hair transplant procedures, including increasingly popular eyebrow transplants, are women.
With so much demand for hair restoration, the options available to those seeking help with hair loss are better and more numerous than ever before.
We offer the most advanced procedures as well as tried-and-true therapies at North Atlanta Hair Restoration.
Our founder Dr. Daniel A. Danyo is a highly skilled surgeon with certifications in all the latest treatments and techniques.
Here's what you need to know about the best hair restoration procedures available today.
What Are Your Options When Faced with Hair Loss?
May people experiencing hair loss start with the hair preservation treatments minoxidil (Rogaine) or finasteride (Propecia), and these treatments can significantly delay or stave off hair loss when started early.
Since these interventions don't restore lost hair, however, many people eventually seek out restorative hair loss treatments, starting with the many great non-surgical hair restoration options out there.
Non-surgical treatment options for hair loss include:
Platelet-Rich Plasma Treatment (PRP): Uses the body's natural healing compounds to stimulate new hair growth. Platelet-rich plasma is extracted from the patient's own blood and then injected into various sites on the scalp.
Scalp Micropigmentation: Tiny, medical-grade tattoos help camouflage areas of thinning hair. The micropigmentation looks like individual hair follicles, effectively concealing areas of loss.
Adipose Stem Cell Treatment: Injections of adipose stem cells (from body fat deposits) into the scalp help spur new hair growth. Stem cells are known for their remarkable healing and regenerative properties.
PDO Threading: Another treatment that helps harness natural healing processes to promote new hair growth, this one uses dissolving polydioxanone (PDO) surgical threads implanted just below the skin on the scalp. The placement triggers irritation and natural healing to rejuvenate dormant hair follicles.
These therapies can be used as a first response to hair loss or as an adjunct to surgical hair restoration procedures.
Who Does Best With Non-Surgical Hair Loss Treatments
Non-surgical hair restoration treatments can show promising results for those in the earlier stages of hair loss or those who aren't quite ready for surgical hair restoration.
They can be a good choice for those experiencing temporary hair loss due to stress or illness, too.
Non-surgical hair restoration procedures are also helpful options for those who are unable to undergo surgery for medical reasons.
However, as useful as they are, hair-preserving and growth-stimulating treatments often eventually fall short, especially for those with progressive male pattern baldness or alopecia.
So, for those who are open to it and able, hair restoration surgery can be the next logical step.
When it comes to choosing between non-surgical vs. surgical hair restoration options, Dr. Danyo recommends a personalized approach based on client's unique needs and preferences.
Surgical Hair Restoration Procedures
Hair restoration surgery has come a very long way from the old methods like follicular unit transplantation (FUT).
Notorious for its long recovery and tell-tale linear scars, FUT was, for a long time, more or less the only option.
Luckily, newer surgical transplantation techniques like follicular unit excision (FUE) have supplanted strip transplantation and made hair restoration easier and more discreet than ever.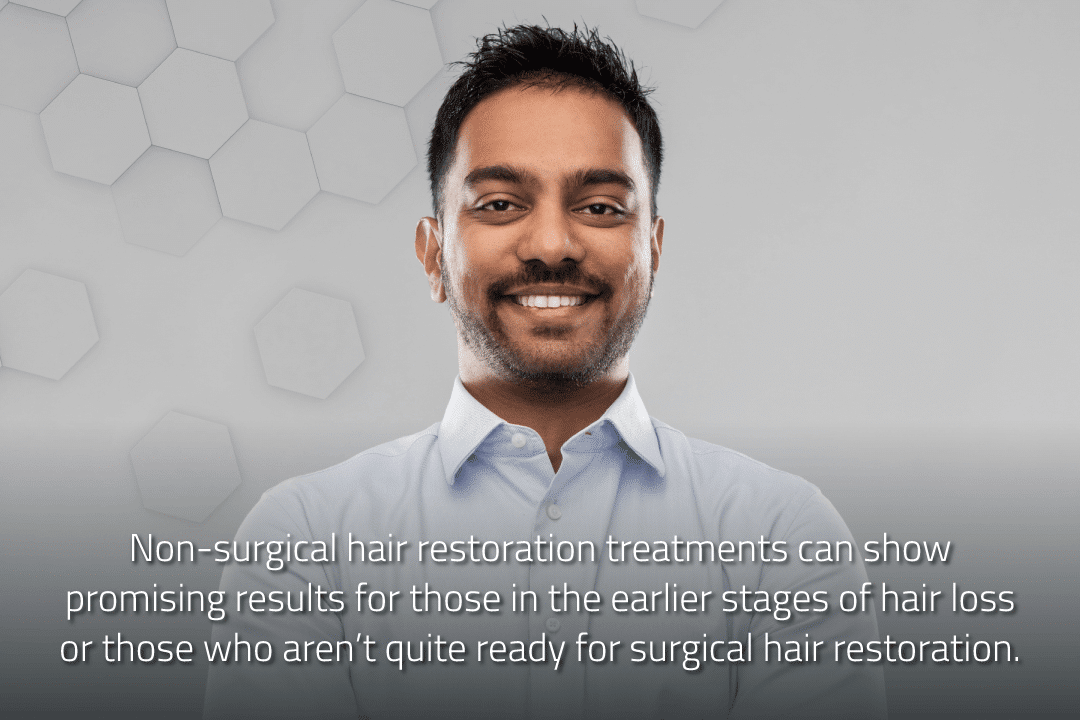 Why FUE Has Become the Preferred Hair Transplant Technique
Doctors and patients increasingly prefer FUE because it can be so effective and treat so many different types of hair loss.
Benefits of FUE include:
Minimal scarring
Minimal downtime
Minimal pain
Minimal infection risk
Natural results
High graft viability/success rate
Suitable for small or large transplants
Even better than traditional FUE for those seeking discretion is the specialized No-Shave or Shave-less FUE procedure.
Shave-less FUE requires no shaving of the head or other areas, so you can walk out of the office looking just as you did when you walked in.
Here are some of the different surgical FUE hair restoration options available:
FUE: Extracting hair follicles from areas of thicker growth and implanting them individually in thin areas to restore full growth. Donor sites can include the scalp, beard or other parts of the body.
Shave-less / No-Shave FUE: Also known as long hair FUE, it uses the same technique as FUE, but does not require donor site or transplant site shaving.
Beard and Body FUE: Restores growth to thinning beard or body hair areas using the FUE transplantation technique.
Eyebrow FUE: Can be used to remediate eyebrow thinness or partial or total hair loss in the brows due to alopecia, overplucking or genetics.
Corrective FUE: Used to correct poor results from previous hair transplants. Common for those who have had older procedures like FUT.
In addition to the many types of FUE available, the cutting-edge direct hair implantation (DHI) technique is a great option for many. Ideal for less extensive hair loss, it uses a specialized tool that both excises and places grafts for greater speed and precision.
You can get all of these treatments at North Atlanta Hair Restoration, performed by expert surgeon Dr. Danyo himself.
Which Hair Restoration Procedure Is Right for You?
 Treating hair loss at any stage requires a holistic approach that takes a variety of factors into account.
A hair loss treatment expert can help identify the true extent of your hair loss and pinpoint the underlying causes after a thorough examination.
Only then can you know which hair loss treatment options will truly benefit you and which ones will likely be a waste of time, money and effort.
To get the best guidance, choose a trusted medical practitioner and be sure to read client reviews.
Ideally, you want someone with a strong surgical background and the right certifications, not a high-volume hair transplant clinic or someone who gives you the hard sell.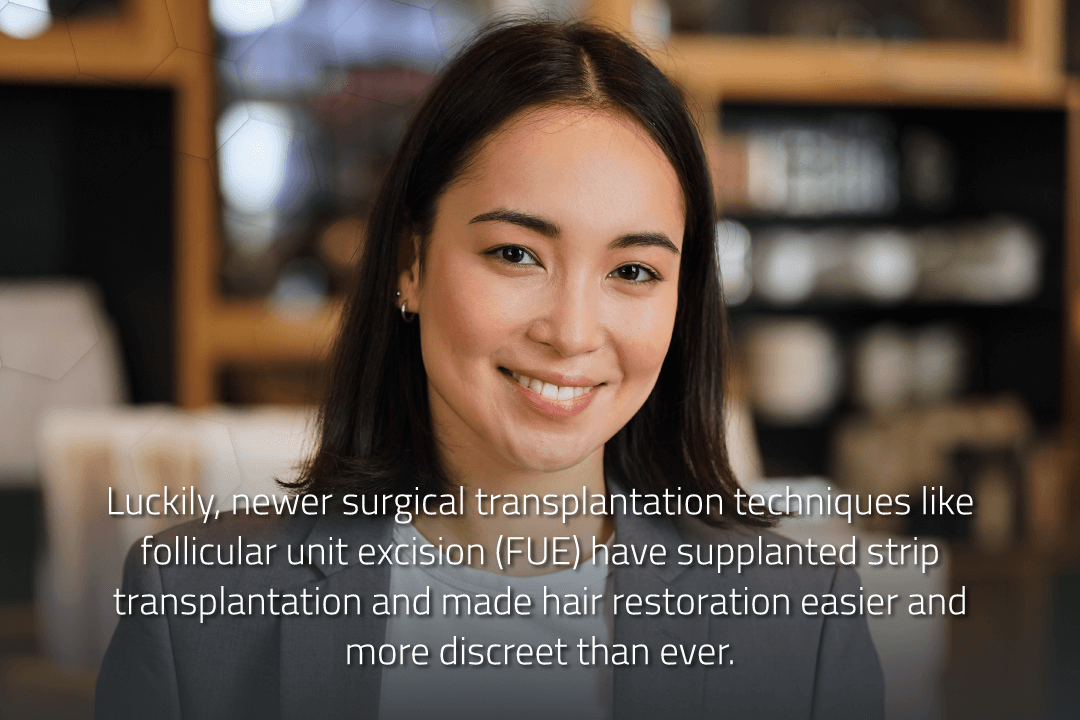 5 Myths About Surgical Hair Restoration
Hair Transplant Surgery is for Older Guys
 One of the most persistent myths about hair restoration surgery is that it only for men, for those with advanced hair loss, or a tool of last resort. With newer, less invasive surgical techniques like FUE and DHI available, the new reality is that you don't have to wait until your hair loss is noticeable before you do something about it.
Many men and women are opting for smaller, more discreet surgical hair restoration procedures sooner, to stay ahead of the hair loss and avoid the embarrassment that can come with it.
Starting early with restoration means you can also deploy a whole portfolio of complementary therapies alongside it, to help you keep more of your existing hair and avoid big procedures later on.
I'll Have to Shave My Head
 Another thing that keeps a lot of people from seeking hair restoration when they first need it is the worry that they'll have to shave all or part of their head. With the newer Shave-less FUE techniques, however, you don't need to shave either the donor or transplant sites.
That means no taking off work, no wearing hats or scarves, and no worries that everyone will know you've had a hair transplant. Just be sure to choose a highly skilled and experienced hair transplant surgeon for this specialized procedure.
It Won't Look Natural
Gone are the days of settling for huge, noticeable scars or hair transplants that look like "plugs" and grow in an unnatural fashion.
Newer tools, techniques and training mean you can get the natural hair growth you want with a high success rate, minimal downtime and no upkeep required.
Cutting-edge techniques and a wider audience of people seeking treatment means that previously underserved clients like women, African Americans and those of varying ethnicities can get the look they want and care that makes them comfortable.
Seek out a medical hair loss expert who has all the latest training and ample experience with clients like you to get the best results.
I'll Eventually Lose My Hair No Matter What I Do
 With so many great hair loss treatment options available, there's really no reason to resign yourself to eventually losing your hair.
Early interventions like topical or oral minoxidil and finasteride can help you keep the hair you have when you're younger, and non-surgical and early surgical hair restoration procedures can help treat hair loss in the beginning to moderate stages.
Even if you think you've waited too long to do something about your hair loss, your options for hair restoration are still wide open.
Advancements in FUE mean that even those with advanced balding or alopecia can see significant improvement or even total hair restoration.
Your hair loss treatment options aren't limited to your head, either – eyebrow FUE, beard FUE and body hair FUE procedures can help restore hair you've lost almost anywhere on your body.
I Probably Can't Afford It
Hair restoration surgery isn't cheap and it isn't usually covered by insurance, but it can be a lot more affordable than you think. Starting early with small procedures is a good way to avoid expensive treatments in the future, and preventive complementary treatments can help stem further hair loss.
Many providers offer payment plans for larger procedures, too, so choose ones willing to talk about cost up front to understand all your options.
Choosing an experienced surgeon with lots of good reviews and a high success rate will help you avoid costly fixes or repeat surgeries to get the results you want.
Wondering If a Hair Restoration Procedure Might Be Right For You?
Call Dr. Daniel A. Danyo for a personalized consultation. Dr. Danyo is a renowned hair loss treatment specialist certified through the American and International Board of Hair Restoration Surgery.
As a leading practitioner of FUE and Shave-less FUE, he places every graft himself and has an artist's eye to go along with his finely honed surgical skill.
You can book online, or call us at (678) 845-7521 to schedule a virtual or in-person consultation.