Everything You Need to Know About PDO Thread Hair Restoration
One of the more exciting hair growth treatments now available to patients is PDO threading for hair growth.
This nonsurgical procedure can usually be completed in less than an hour, and it can provide very satisfying regrowth outcomes for patients contending with hair loss.
The process involves threading polydiaxonone threads (PDO) just under the surface of the skin on the scalp.
This thread embedding therapy, sometimes also known as TET, is derived from the popular PDO threading cosmetic procedure used to lift and rejuvenate facial skin – what you may have heard referred to as a PDO facelift.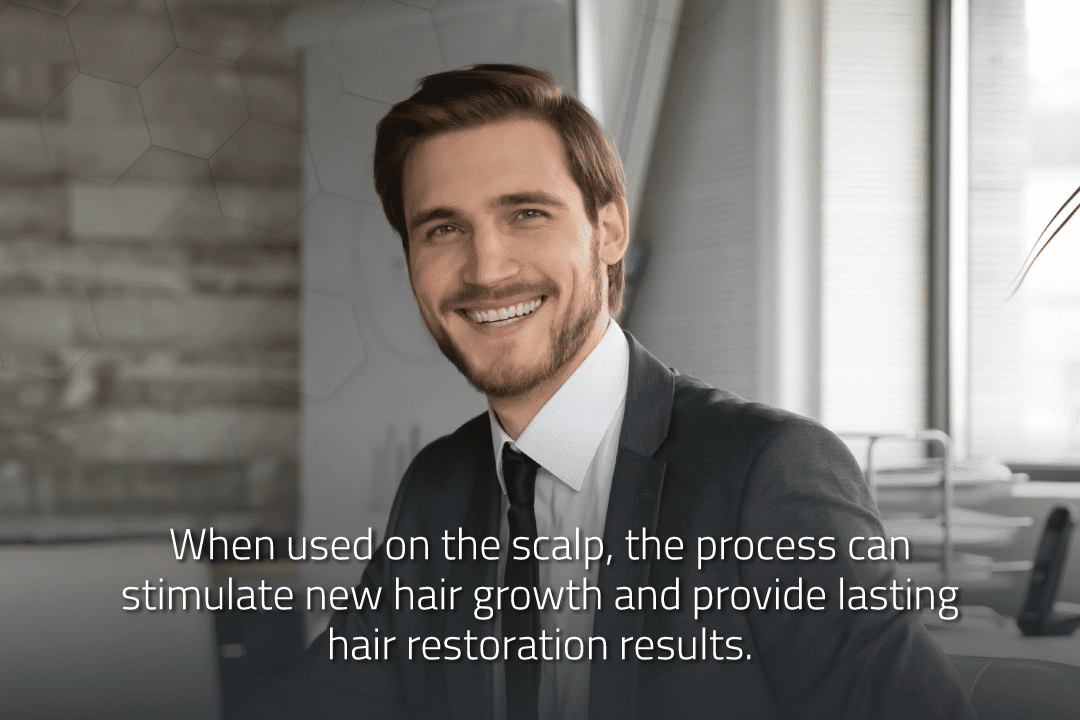 When used on the scalp, the process can stimulate new hair growth and provide lasting hair restoration results.
PDO threads are the same material as widely used dissolving surgical sutures, and the chairside process is considered to be very safe.
Scalp threading can be a great alternative to more invasive surgical hair restorations, and it is often used as a standalone treatment.
PDO hair threading also makes a great adjunct therapy to other hair loss interventions, including finasteride and minoxidil treatments, PRP platelet-rich plasma therapy and others.
How Do PDO Threads Work to Stimulate Hair Growth?
PDO thread treatments work by stimulating blood flow and collagen, fibroblast and elastin production in the scalp.
They also promote cell anagen induction and cell proliferation at the hair bulb and, importantly, stimulate new blood vessel formation and connective tissue generation.
Many studies have demonstrated the efficacy of PDO threading for hair growth:
One, which used mice as test subjects, showed lasting hair growth comparable to that seen with extended use of minoxidil.
Another study, conducted using human subjects, showed substantial improvement in hair regrowth, hair thickness and rate of hair loss.
Even more promising are the results we are seeing when PDO threads are used in conjunction with other hair restoration treatments.
Who Can Benefit From PDO Thread Hair Growth Treatment
PDO treatment can benefit both men and women with hair loss, and it can be especially beneficial for those with androgenetic alopecia.
Scalp threading has also been shown to stimulate hair growth in patients who failed to respond to finasteride and minoxidil treatments.
Many clients who either can't or don't want to have a surgical hair procedure are choosing non-surgical interventions like PDO threading.
PDO threading is usually best for those in the early to moderate stages of hair loss who want to help slow hair loss and stimulate new and thicker growth.
Of course, thread embedding therapy can also be effective for those experiencing more advanced hair loss, as long as they still have enough viable hair follicles that can be stimulated.
Talking to a hair restoration specialist can help you understand which treatments are likely to work best for you.
What Hair Growth Results Can I Expect?
The results most people see with PDO threading include:
New hair regrowth
Thicker hair texture
A reduced rate of hair loss
You can expect to see noticeable regrowth in 12 weeks, with marked improvement over the course of several months.
Combining PDO threads with PRP or a topical treatment may produce even more noticeable results.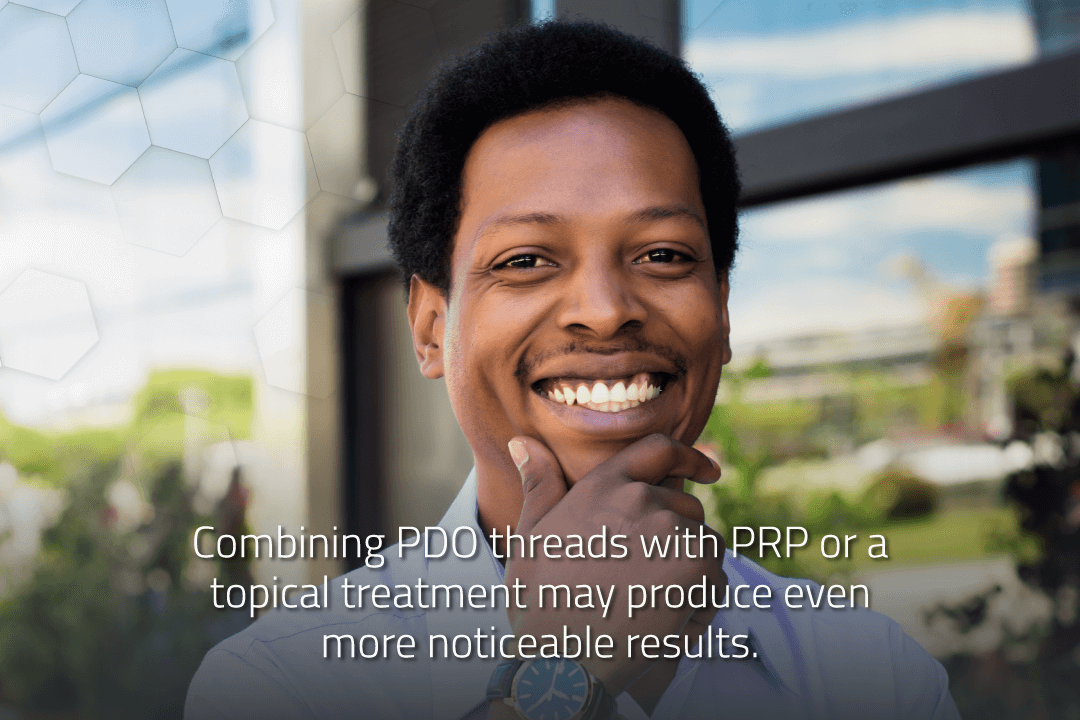 How Long Do PDO Threading Results Last?
The results from PDO threading have been shown to be very long-lasting, but every patient is different.
We usually like to see patients for growth rechecks regularly after treatment to monitor progress and stay proactive.
Is PDO Thread Hair Treatment Safe?
PDO threading is considered very safe, and the polydiaxonone threads we use are surgical grade and approved by the FDA.
The threads used are the same as the absorbable surgical filaments used widely throughout the medical profession for decades, and they dissolve naturally on their own within 6-8 months.
Will I Need to Take Time Off Work?
One of the best things about this hair loss treatment is that it requires no downtime, no recovery period and no aftercare.
The procedure can usually be completed in the time it takes to eat lunch, and you can be off to finish your day with no activity restrictions and no noticeable wounds or bandages.
Does PDO Threading Hurt?
PDO threading shouldn't hurt, as the doctor will use local anesthesia to numb the scalp before the procedure.
The microfilaments and needles used for PDO are quite small, so any soreness afterward – if any – should be minimal.
Once the threads are in place, you should not be able to feel the threads under your skin.
The threads are very small in diameter – less than a human hair – and should be undetectable to the touch and sight once placed.
Frequently Asked Questions About PDO Threading
How will I know if PDO threading is working for me?
The great thing about PDO threading is that you will be able to see and feel noticeable results in your hair density and thickness.
Most patients begin to see real improvement in about 3 months, with continuous and lasting regrowth.
In addition, we will assess your progress to be sure the treatment is working. We can also discuss adding other interventions to further improve hair regrowth results.
Will people be able to tell I've had a hair restoration procedure?
PDO threading is one of the most discreet hair restoration treatments you can have, and it produces no visible wounds or scarring.
No one will know you've had anything done, since the hair regrowth process happens so gradually and naturally.
Does PDO threading work for women with hair loss?
It does. One of the most promising studies of thread-embedding therapy with PDO used only women as test subjects.
The study showed that 73% of the women experienced substantial improvement, with 76% reporting that their hair felt coarser or heavier after treatment.
The results were measurable, too: the study's conclusion stated that treatment with monofilament PDO threads demonstrates "highly statistically significant improvement in HMI [hair mass index] or hair count in women with female pattern hair loss."
How effective is PDO compared to other hair loss treatments?
 PDO can be very effective in restoring hair growth in patients who still have working hair follicles.
The results can be comparable to those seen with topical minoxidil, without the hassle and mess of daily application.
Studies are still ongoing to compare PDO to other non-surgical hair loss treatments like stem cell treatment or PRP, however, it is believed that PDO works in a similar manner to reactivate hair growth on the cellular level.
And combination treatments with PDO are showing even more promising results for many patients.
For those with severe hair loss and extremely damaged follicles, surgical transplantation treatments for hair loss like FUE may be a better choice.
How can I know if PDO may be a good treatment option for me?
The best way to choose the right hair restoration therapy is to see a medically licensed hair loss specialist.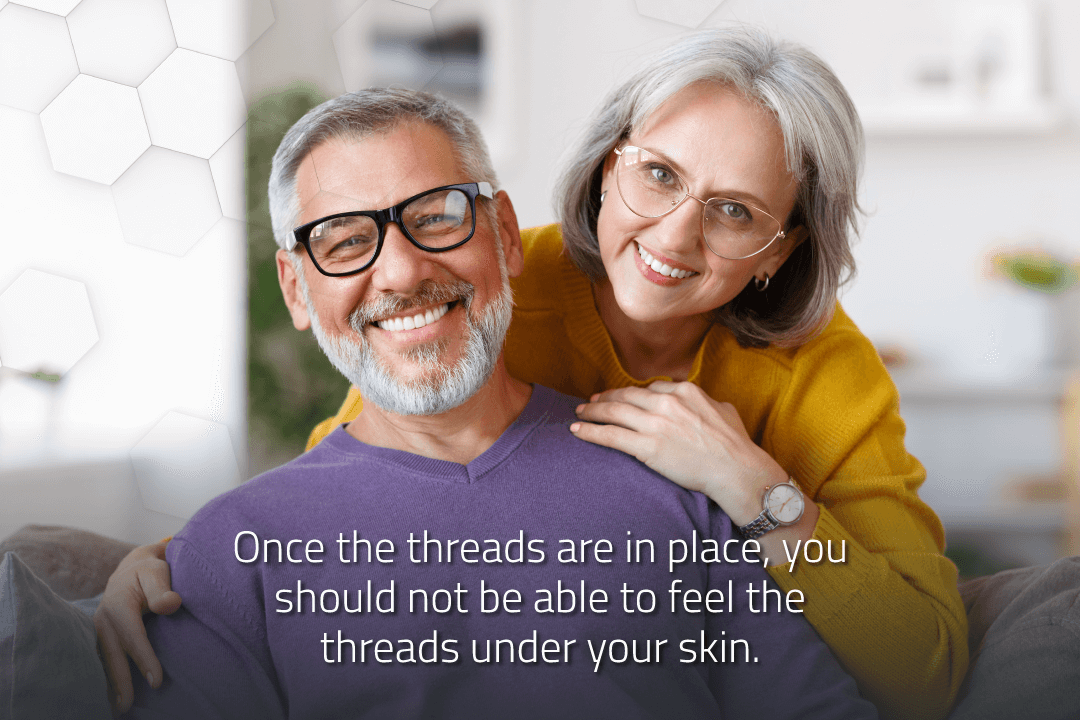 A doctor with experience in both surgical and non-surgical hair restoration techniques can thoroughly assess you and present all your options.
Beware of hair restoration clinics that outsource their procedures to cosmetic practitioners or surgical techs, as they may steer you toward procedures that aren't right for you.
Considering Hair Restoration, and Want to Find Out If PDO Threading Can Help You?
Dr. Daniel Danyo would love to talk to you.
Schedule a virtual or in-person visit and get personalized recommendations from a leading medical hair restoration specialist.
You can book your consultation with Dr. Danyo online or by calling (678) 845-7521 today.