John is a recent client of North Atlanta Hair Restoration. In the past year, John underwent hair restoration surgery which consisted of two different hair transplant procedures that totaled 3,900 graphs.
When asked why he decided to undergo hair restoration surgery, John jokingly responded, "my hair went away!"
He noticed that his hair started to thin out in the front. "It just kept thinning out, and I had really thick hair in the back, so I started looking into it," says John.
He underwent his first hair transplant, consisting of 2,500 graphs, in March of 2021. Thanks to the pandemic, John was still confined to the comfort and privacy of his home, and he did not care if his head was shaved or not. No one was going to see him, so he opted to undergo a traditional FUE procedure.
After his first procedure, John waited the recommended period of 6 months to heal and let his hair grow out before undergoing another procedure in October. This time a No-shave or Shave-less FUE hair transplant.
Now, two months post-procedure, he loves his new look and says that his hair is "growing like crazy!"
What is FUE?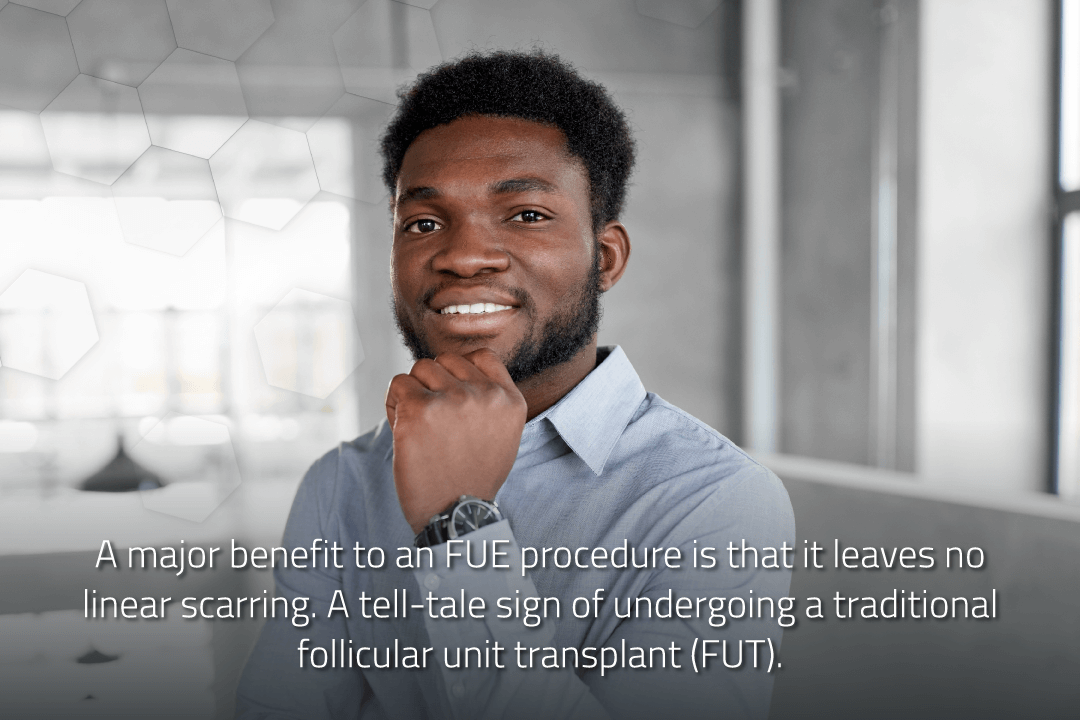 FUE stands for follicular unit excision. A traditional FUE hair transplant starts with shaving your head. After that, Dr. Danyo extracts hair follicles from an area where your hair grows the thickest and then reinserts them into the problem areas.
A major benefit to an FUE procedure is that it leaves no linear scarring. A tell-tale sign of undergoing a traditional follicular unit transplant (FUT).
In addition to the traditional FUE method, Dr. Danyo also offers Shave-less or No-shave FUE. The shave-less method is even more discrete than the traditional as it is minimally invasive, does not require you to shave your head, and your existing hair can easily cover up transplanted follicles.
Both FUE methods are relatively painless. "The nerve block is never a pleasant experience, but after that, it was minimal. At one point, I fell asleep," shared John. In addition to taking a nap, John helped pass the time by checking his email, watching movies, and at one point taking a couple of selfies.
Not All Doctors Are the Same
Having undergone hair restoration surgery himself, Dr. Danyo knows what his patients are going through. He opened his practice knowing how much of a struggle it is to find an experienced physician that is 100% focused on hair restoration treatments.
Today, Dr. Danyo is a leading physician in his field and a pioneer in Shave-less FUE. He is also a member of multiple organizations, including the International Alliance of Hair Restoration Surgeons. According to their website, the International Alliance of Hair Restoration Surgeons is "the first consumer organization and professional society whose membership is limited exclusively to state-of-the-art hair restoration surgeons."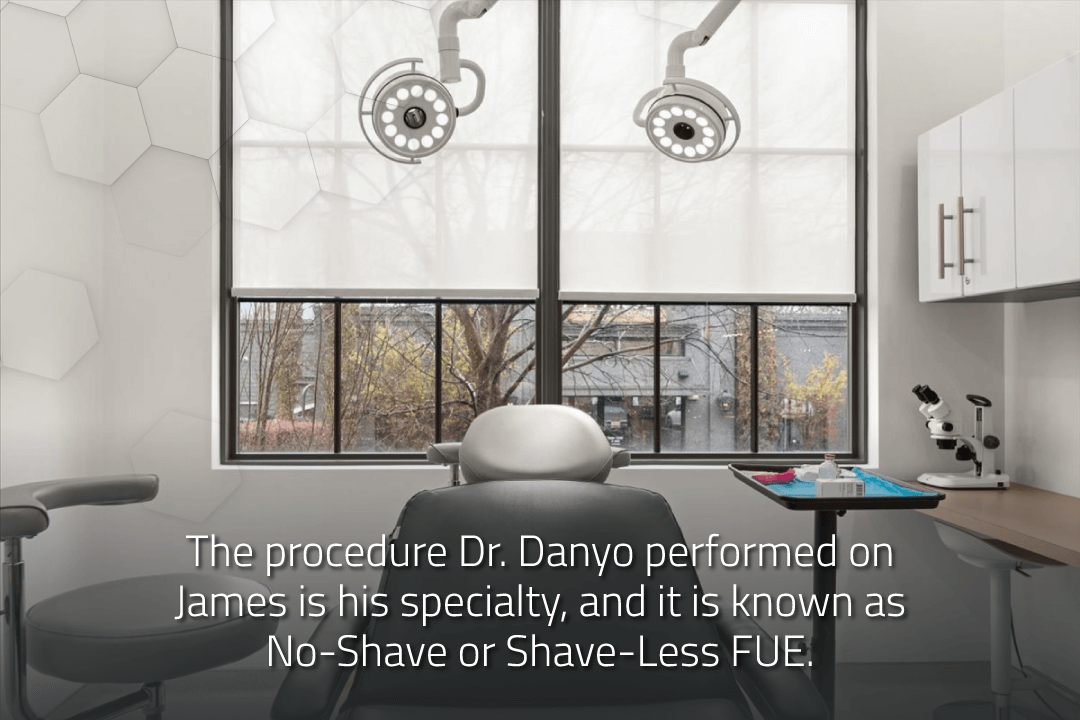 Dr. Danyo Offers What Other Doctors Don't
John looked around and researched for two years before being referred to Dr. Danyo at North Atlanta Hair Restoration.
In his two years of searching, he came to three different conclusions that made him choose to get Dr. Danyo's help. The differences between Dr. Danyo at North Atlanta Hair Restoration and many other hair transplant physicians include the following:
Danyo is not a traveling doctor. He is solely dedicated to hair restoration and owns his practice.
Danyo does not use the robot and believes "successful hair restoration is as much of an art as it is a science."
Danyo actually performs the surgery and devotes all his attention to your procedure. Unlike other doctors that solely oversee multiple surgeries because they prioritize profits.
Traveling Hair Restoration Doctors
"There's a lot of hair transplant offices that say they can do it, but the reality is there's almost like traveling transplant doctors. They go from office to office and state to state. They do the job, they take your money, and they get out," says John.
He did not like the thought of the doctor performing his procedure not being entirely associated with the office because if he had a question or concern about his procedure, he would not have access to the person that performed his transplant. Instead, he would be talking to whoever ran the office.
This is not the case at Atlanta Hair Restoration. Dr. Danyo focuses solely on hair restoration treatments and is involved in everything from the first consultation to the procedure to follow-up appointments.
Robotic Hair Transplants
During his two years of research, John concluded that he did not want to undergo a robotic hair transplant. After watching the robot, he decided that he did not trust it and that he wanted someone with a personal touch.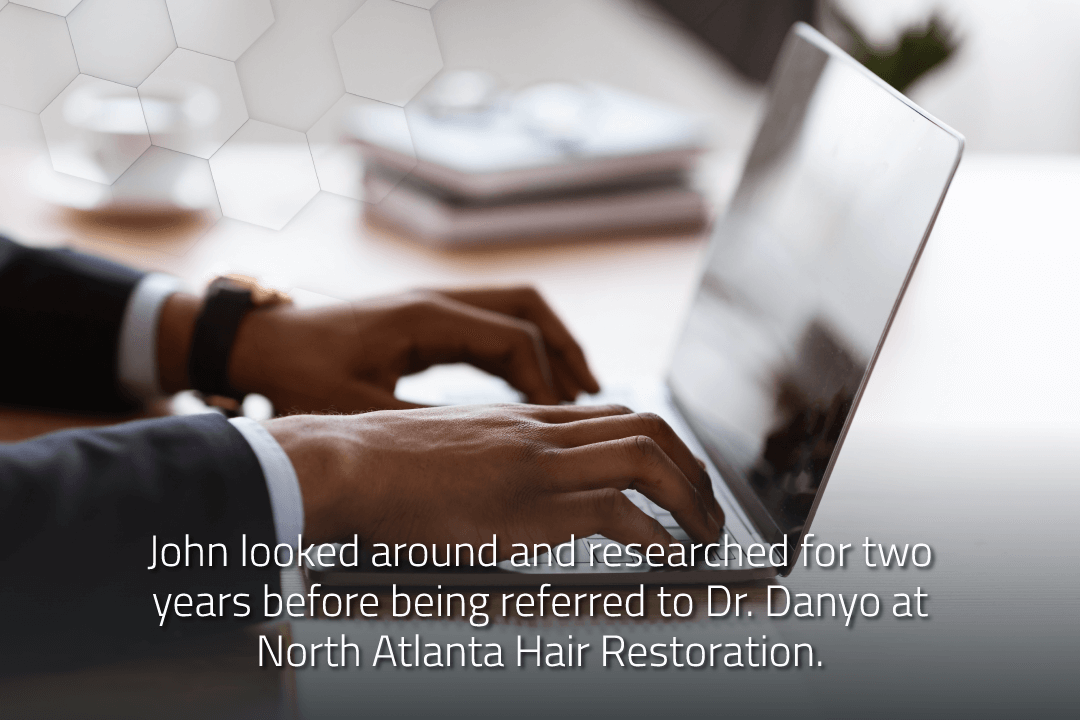 Dr. Danyo believes that it takes both surgical skill and an artist's eye to create realistic and natural results. In his years of practice, he has personally performed over 2 million graft excisions and placements.
In addition to wanting that personal touch, John mentioned that he is not great at sitting still. When he walked me through the day of his procedure, John shared that they took a couple of breaks during the procedure so that he could get up and walk around a little bit.
"I am not great at staying still, so after every two hours, I am like, 'I've got to get up,' so I would get up and walk around a little bit," says John.
Had John chosen to undergo a robotic procedure, he would not have the same level of freedom to readjust or take a stretch break as often as needed.
Some Doctors Prioritize Profits
The third and final thing that John found from his two years of research was that many doctors do not perform the procedure themselves. Instead, they oversee the surgeries that their assistants are performing.
Until he was pointed in the direction of Dr. Danyo, John said, "I truly didn't find anybody who actually did the procedure. That was my biggest issue," says John.
According to the American Board of Hair Restoration Surgery, any individual with a medical license can legally perform hair restoration surgery.
Since an assistant can perform the surgery, a doctor can schedule multiple procedures at once and just walk from room to room overseeing each case. As a result, the doctor is free to prioritize profits over individual clients and their hair loss.
John does not believe that you can receive the same quality of care when the doctor is just overseeing the procedure rather than being actively involved and performing your surgery.
Dr. Danyo is one of the few doctors that individually extracts and places every graft on every patient.
Not only does Dr. Danyo perform the actual procedure, but he is involved in the entire hair restoration process from start to finish.
The Results Speak for Themselves
"When I see people that I haven't seen in a long time, they look at me, and they go 'What did you do?' They don't get it, and then I tell them," John says.
Seeing other people's results online is one of the reasons John started looking into FUE procedures himself. When he was looking into Dr. Danyo's work and practice, the hair transplant before and after pictures posted on the North Atlanta Hair Restoration website were one of John's top selling points.
Now, when looking at his own before photos, John says, "I am shocked I actually went out in public like that."
Not only have the results of John's FUE procedures helped him retire his baseball caps – an old staple in his wardrobe – but his new appearance has boosted his confidence as well.
John works in the e-commerce industry. An industry which John describes as "quite a bit younger." His hair transplant helped him feel "on top of his game," a feeling that he says is very helpful when working with people at least 15 years younger than yourself.
Work with the Best the Industry Has to Offer
Don't settle for a traveling doctor or a robot. Choose to work with a physician whose name is on the door and who will never hand you off to a technician.
Dr. Daniel Danyo is one of the few physicians that personally conducts every consultation and performs each procedure from start to finish.
Start your hair restoration journey today! Fill out our online hair restoration request form right now to schedule your virtual consultation with Dr. Danyo.