Atlanta No-Shave Hair Restoration Success Story
Miriam wasn't surprised when she started to notice her hair was thinning. "It's a genetic thing. My mother had it too," she says. "I knew it was coming on."
But she was determined not to simply accept her hair loss. Miriam's doctor recommended Rogaine and various other topical treatments. She also tried PRP, or Platelet-Rich Plasma—a treatment that involves injecting the patient's own plasma to accelerate the healing and growth of hair follicles.
"I used the solution every day, and tried PRP treatment," Miriam says. "I didn't see much improvement. I felt that these treatments might have been more effective if I could keep up with it constantly, but PRP was too expensive to do frequently."
After four years of trying other options, Miriam decided she wanted to look into surgical hair restoration options. But she was adamant that she did not want the telltale linear scar that's so common with FUT (Follicular Unit Transplant).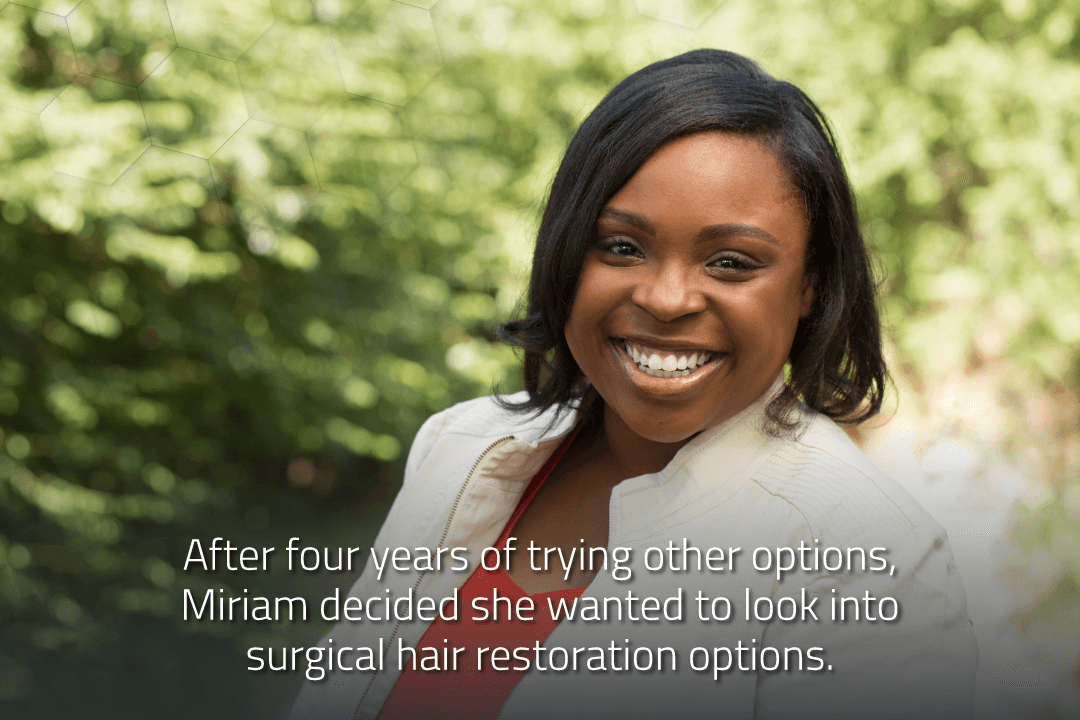 Finding the Right Hair Doctor
Eventually, Miriam narrowed her search down to four doctors who offered various kinds of hair restoration procedures. But the process of setting up a consultation was onerous, took a number of weeks, and required complex bloodwork. Most didn't have room in their schedules for months.
When Miriam called Dr. Danyo, however, her experience was completely different.
"He called me back in person within 24 hours, and was very friendly," Miriam said. "I told him what I wanted, and he said of course we can do that. I asked when we could set up the appointment, and he told me I could do it whenever I wanted."
Dr. Danyo told Miriam that her pattern of hair loss made her a good candidate for Shave-Less FUE—a procedure that involves harvesting healthy hair follicles from a donor site, without leaving a linear scar or even shaving the patient's head. Dr. Danyo is a leading practitioner in this type of treatment.
Miriam had her procedure done in Dr. Danyo's office soon after that.
"It was a friendly informal atmosphere, and the procedure was almost pain free," Miriam says. "I felt very relaxed and taken care of."

"I followed Dr. Danyo's directions for recovery very carefully," Miriam adds. "But I was back to my life the next day. No one noticed anything."
The Results Matter
Miriam is still only a few weeks out from her procedure, so she is still waiting for her new hair to begin to grow in properly. But she is highly confident that she will love the results.
"A lot of hair restoration practitioners push you to buy ancillary products, and Dr. Danyo never did that with me," she says. "He told me he would never push any products on me—but if I wanted to try a product, he'd be happy to provide his thoughts and recommendations."

"I would definitely suggest that if you're experiencing hair loss, you get it treated sooner rather than later," she adds. "I'm glad I did it before my hair loss progressed too far. I would absolutely recommend Dr. Danyo."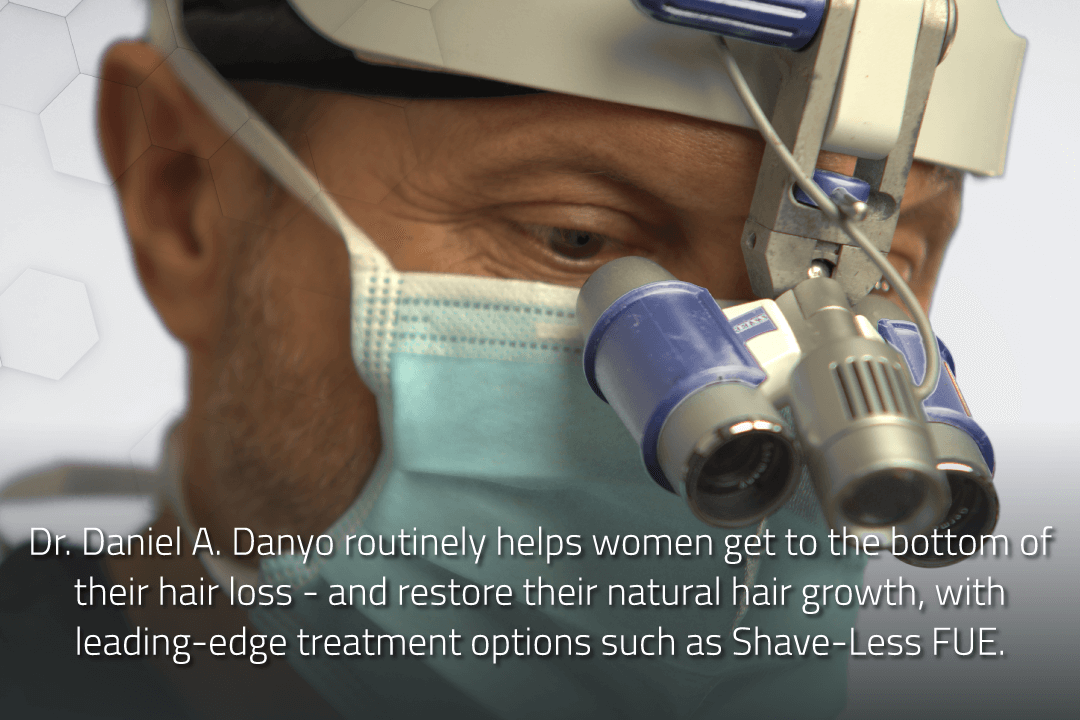 Talk to a Hair Restoration Surgeon About Your Hair Loss
Causes of hair loss in women can be more complicated than they are in men. But many underlying causes are quite treatable. Just because other physicians haven't discovered the root cause of your hair loss doesn't mean it's not possible to find.
Dr. Daniel A. Danyo routinely helps women get to the bottom of their hair loss—and restore their natural hair growth, including with leading-edge treatment options such as Shave-Less FUE.
Contact us today to schedule a virtual confidential consultation—and find out whether this type of treatment is right for you.