"I Felt Like I Was Hiding Behind a Curtain."
Brian noticed his hair loss as early as college.
"I was always a perfectionist about my hair," he says. "Other people didn't notice it was thinning, but I always noticed it. And it did affect my confidence."
Brian looked into a hair transplant provider near where he lived, but he couldn't afford the procedure—and didn't like their commercial approach. He felt like they were too focused on sales, and not enough on him as a patient.
As Brian graduated from college, and started his career, his hair loss progressed slowly. He styled his hair carefully to hide the thinning areas, but he hated feeling like he was hiding something.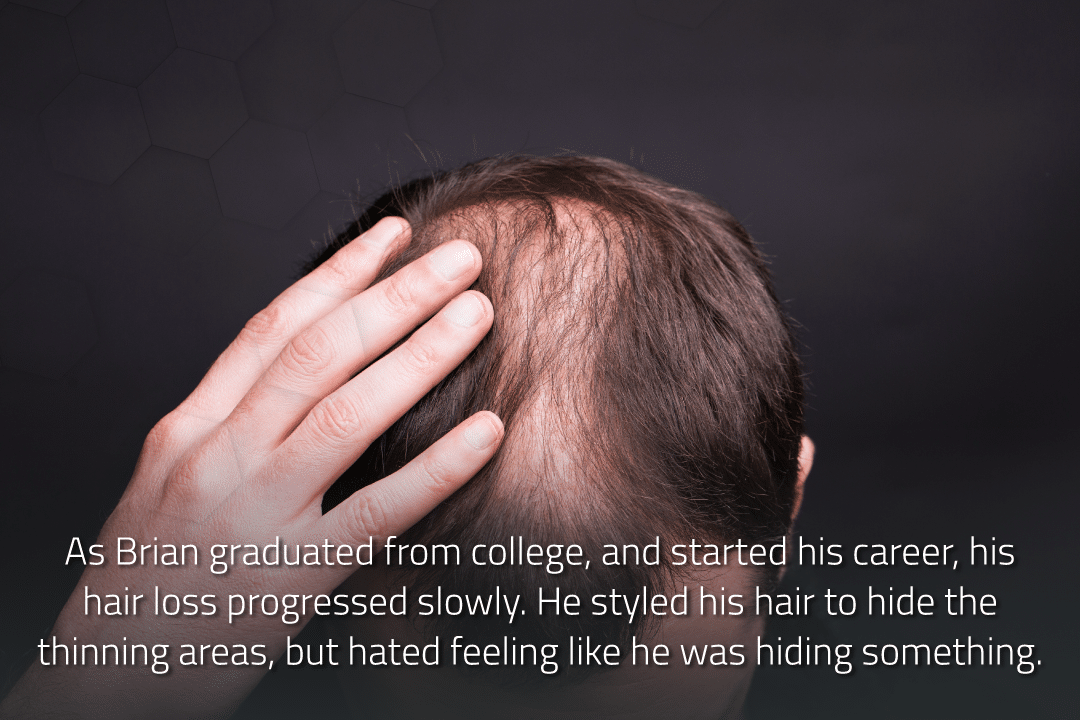 Thinning Hair Problems Since College
"I felt like I was hiding behind a curtain," he says. Brian avoided going out on rainy days or going swimming with his friends, because his hairstyle might go awry and people would notice his thinning hair.
And it particularly bothered him when he was dating. "In the dating world I was associating thicker hair with dating appeal, and I was very self-critical," he said. "I'd get nervous whenever a girl I liked wanted to run her hands through my hair."
As time went on, Brian noticed that a lot of his friends had thick, full hair—but he also noticed that some of them had thin, linear scars on the backs of their heads.
He remembered the treatment offered to him in college—something called FUT, or "Follicular Unit Transplant." That procedure was cutting-edge at the time, and left a telltale linear scar.
Brian's friends never talked about it, but he believed many of them had had that treatment. He wanted thick hair like they had, but he didn't want the distinctive scar—because he didn't want anyone to know he'd had the procedure done.
Finally, Brian decided to look into hair restoration again, and see if the field had advanced since his college days. He reached out to several different practitioners. But it took a while to schedule consultations, and many only offered the FUT procedure—the same one he'd been offered in college. He knew he didn't want that.
Alpharetta Hair Transplant Specialist Dr. Danyo
Finally, Brian decided to look closer to home—and discovered Dr. Danyo. "He seemed sincere, and very professional. He had great reviews," Brian says. "And he offered more than just the FUT procedure."
So Brian booked a consultation. Dr. Danyo told him about No-Shave FUE, a hair restoration procedure that's on the cutting edge of treatment. It involves grafting healthy hair follicles from areas of thicker growth onto thinning areas,
It's one of the most discreet procedures currently available. It leaves no linear scar, and the patient doesn't even have to shave their head.  It was exactly what Brian was looking for.
"Dr. Danyo told me that no technician worked on the client. He does all of it by hand, every single graft," Brian said. "He was very calm and professional, and didn't make me feel like he just wanted to sell me things. In fact, he didn't try to sell me anything at all."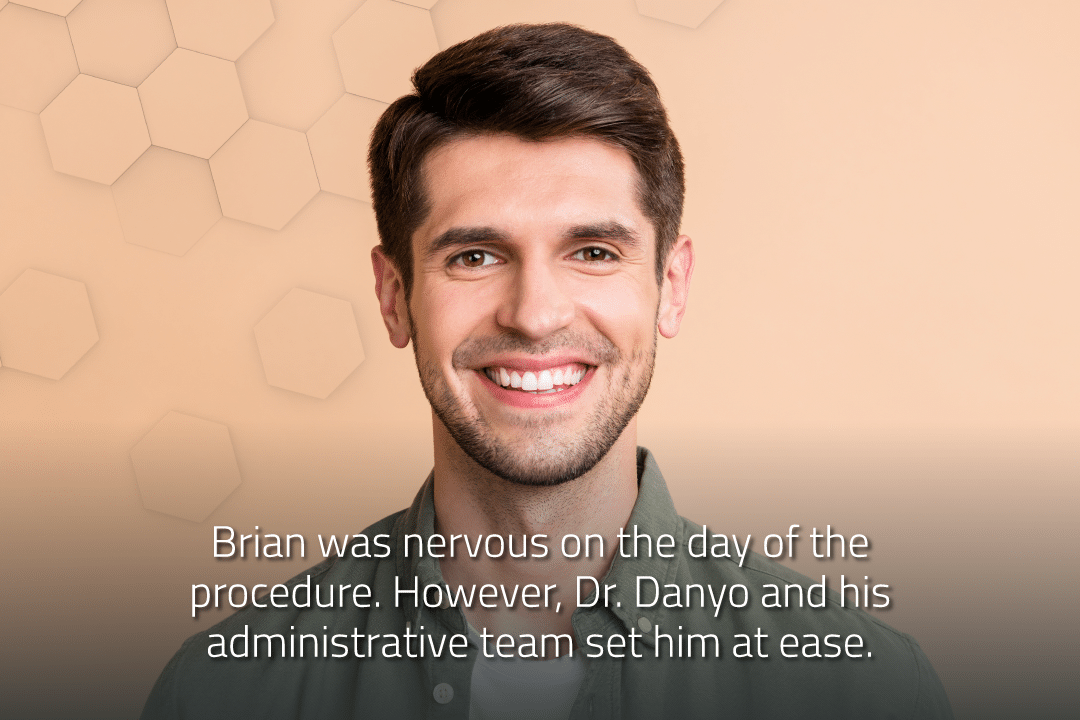 Working With A Doctor Who Is There Every Step
Brian was nervous on the day of the procedure. However, Dr. Danyo and his administrative team set him at ease. "Dr. Danyo constantly monitored my comfort throughout the procedure," Brian says. "And I even drove six hours home that night."
After the procedure, Dr. Danyo and his team stayed available to answer Brian's questions throughout his recovery period—even over the weekend. Brian is still recovering, but he has every confidence that his results will be outstanding.
"Dr. Danyo is a doctor—not a salesperson," Brian says. "He's dedicated his life to medicine and chosen to provide those skills to his hair loss patients. He's a step above many other organizations that are heavily commercialized. I would absolutely recommend Dr. Danyo to anyone experiencing hair loss."
Questions About Hair Loss?
If you've been putting off talking to a medical professional about your hair loss, now is a great time to schedule a free, confidential consultation with Dr. Danyo.
Hair restoration options have come a long way. There is no need to undergo a procedure that will leave a scar or that will require you to shave your head. It is possible to restore your natural hair growth effectively and naturally—without anyone being the wiser.
Schedule a confidential consultation today—either in person or online.