Hair Loss Ran in His Family
Rob remembered the day he first noticed he was losing his hair very vividly.
"I was a newlywed," he says. "I was in my late 20s, and my wife and I were chatting. I said something about feeling a little thin up there, and she looked at me and said 'yeah, looks like it's thinning.'"
His wife was telling the truth, and she didn't say it to be mean—she was just agreeing with him. But secretly it traumatized Rob a little. After that conversation, he couldn't stop thinking about his hair and whether anyone else could tell he was losing it.
"It was primarily on my hairline," Rob says. He started styling his hair carefully to conceal the thinning area. He also began to avoid posing for pictures. "You can kind of tell in all the pictures from that time in my life. It was really obvious," Rob says.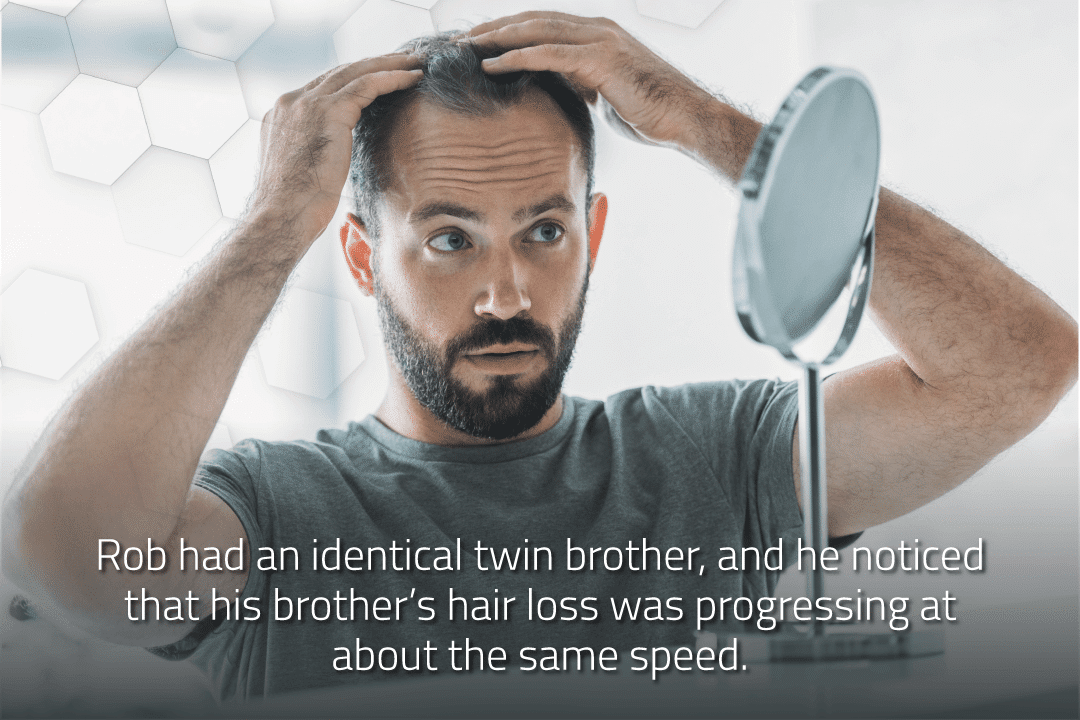 Two Atlanta Brothers Suffering from Hair Loss
Rob had an identical twin brother, and he noticed that his brother's hair loss was progressing at about the same speed. He and his brother compared notes about the hair loss their fathers and grandfathers went through—and realized that early-onset hair loss ran in the family.
"We were kind of bracing ourselves for that sort of change," Rob says.
But neither brother wanted to simply accept it. Rob began using Minoxidil every evening, as well as a Minoxidil styling mousse in the mornings. He also tried the DHT hormone-blocking agent Finasteride, but he didn't like the side effects. And neither medication seemed to significantly help his hair loss.
One Chose FUE
 Meanwhile, Rob's brother decided to undergo hair transplant surgery. He opted for a Follicular Unit Excision (FUE), a procedure where healthy follicles are harvested from areas of thicker growth and replanted in thinning areas.
This procedure was more advanced than the Follicular Unit Transplant (FUT) procedure, as it did not require removing a strip of skin—and did not produce a telltale linear scar. However, Rob's brother did have to shave his head.
"My brother took about six weeks of time off, and he basically hid out after his procedure so no one would realize he had it," Rob explained. "I wanted to have a procedure like that, but I couldn't take that much time off."
Why Medication isn't Enough for True Hair Growth
So Rob continued using Minoxidil and Finasteride. Despite this, his hair loss continued and even accelerated. Rob's career required him to give a lot of presentations and be in front of people a lot, and his thinning hair began to affect his confidence at work.
Meanwhile, Rob watched his brother's new hair grow in, and he realized he had to make a change.  He didn't have the flexibility to take six weeks off work to wait for his hair to grow back, but he began to do some research — and found out he had options.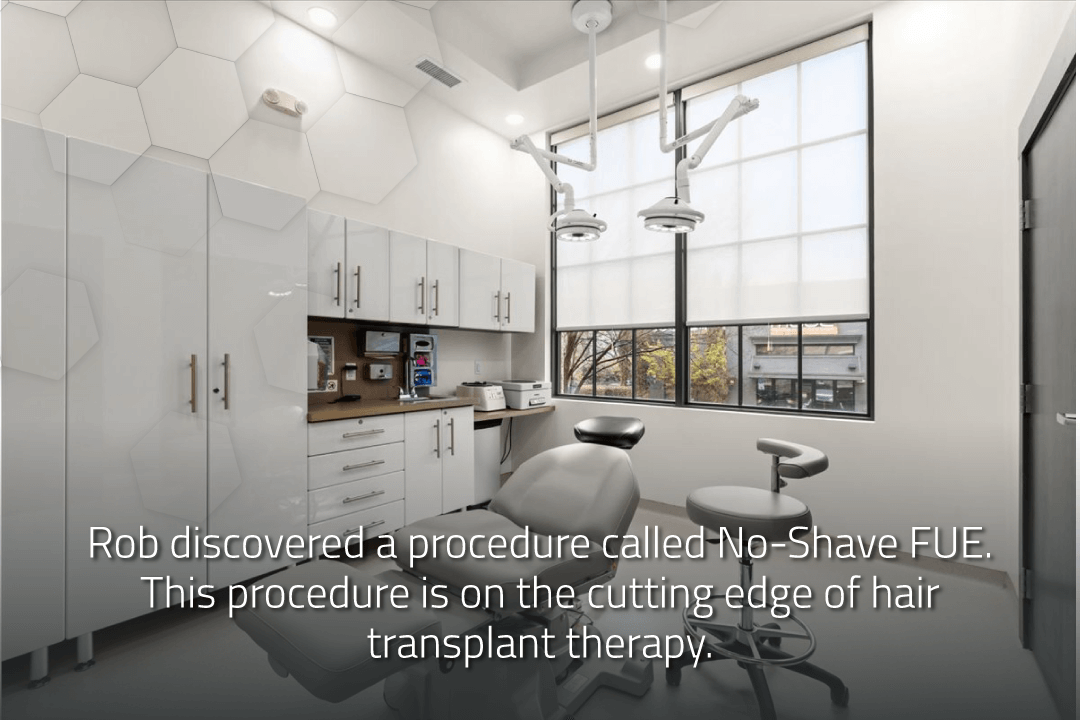 Why No-Shave FUE Makes Sense
Rob discovered a procedure called No-shave FUE — a version of FUE where the patient's head is not shaved. This procedure is on the cutting edge of hair transplant therapy, and Dr. Danyo is one of the few practitioners with expertise in No-shave FUE.
"I thought it was too good to be true, but I owed it to myself to check it out," Rob says. "I met with Dr. Danyo, and he spent a lot of time with me. He educated me on how he does the procedure and why it's different. I was blown away that he had figured out a way to do this with so little recovery time for his patients."
So Rob booked an appointment.
"The procedure was actually kind of relaxing," Rob says. "There was no pain or excessive bleeding." Dr. Danyo handled the whole procedure himself, from start to finish, by hand with the help of his two assistants.
"Dr. Danyo has great bedside manner, he's very concerned about my comfort level, and always checking to see that I was fine," Rob says.
After the procedure, Rob had some soreness — but it was quickly alleviated with mild pain relievers. Mostly, Rob relied on nothing stronger than Tylenol.
"I worked remotely the first few days afterward, but I could answer emails and focus on work as usual," Rob says. "My sons came home from high school and never noticed anything."
Will Anyone Notice You Had a No-Shave FUE Procedure?
By the end of the week, Rob was attending meetings in person and going out, and nobody noticed he'd had the procedure.
It's now been more than a year. "I get a lot of compliments on my hair now," Rob says.  "Even my barber comments on how thickly it grows in. It looks better than it did in my early 20s. I feel like I look ten or fifteen years younger."
"I would recommend Dr. Danyo to anyone experiencing hair loss," Rob adds. "There's a stigma around these types of procedures for men, and it's important to have an option that doesn't require a lot of down time. Dr. Danyo is — if not the only one — one of very few people doing the shave-less version of this, and if you could go get it done and be back to work again in a matter of days, why wouldn't you do it? If your hair loss is something that affects your confidence on a day-to-day basis, I highly recommend it."
Get Your Free Virtual Consultation Today
You don't have to simply accept hair loss — even if it runs in your family. Dr. Daniel A. Danyo routinely helps people restore their thickest, fullest natural hair growth with discreet treatment options such as No-shave FUE.
Contact us now to schedule a virtual and confidential hair loss evaluation with Dr. Danyo.