Experts estimate that 42% of men aged 18-49 will experience moderate to extensive hair loss at some point. It's not just men, either. Many women face hair loss due to things like hormonal changes, follicle trauma from hairstyling, illness and other factors.
Although in the past, it seemed that there were few good interventions for hair loss, there have been many major advances in how we can treat hair loss now.
That means that you have quite a few options if you find yourself facing hair loss.
So, what are the best treatments for hair loss, and how do you know which ones might be right for you?
Let's start by looking the common causes of hair loss in order to understand which treatments can help.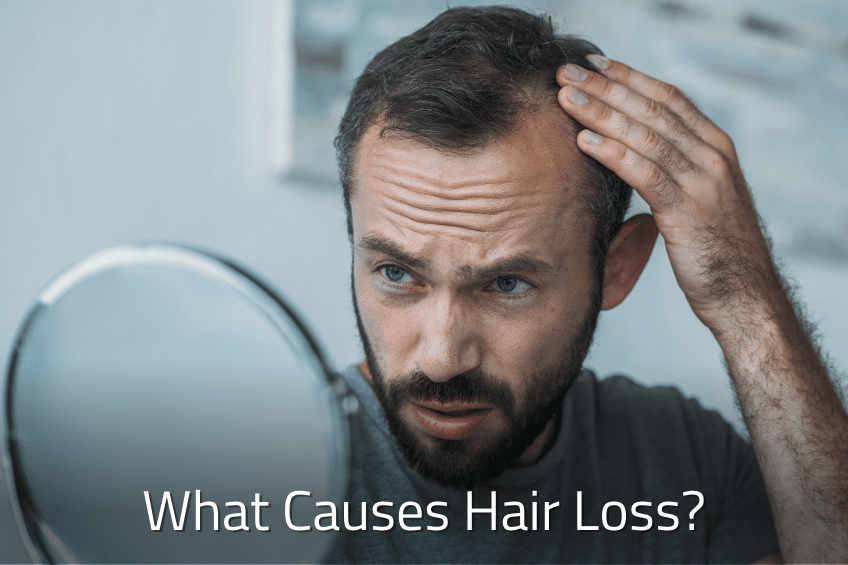 What Causes Hair Loss?
Common causes of hair loss include:
Genetics: The most common cause of hair loss, according to the Mayo Clinic, is hereditary hair loss that happens naturally with age. Also known as androgenic alopecia, this type of hair loss results when a form of the male hormone testosterone negatively impacts the hair growth cycle. Both male pattern and female pattern baldness are caused by this inherited predisposition.
Age: Hair thinning is a common issue as people age, even for people without a genetic predisposition to severe hair loss. While it is completely normal and quite common, it can nevertheless be a source of distress.
Illness: Hair loss can result from a variety of ailments, including infection with viruses like Covid-19, thyroid problems, hormonal imbalances, nutritional deficiencies and fungal infections of the scalp. Although hair loss often subsides once the underlying cause is treated, in some cases, permanent hair loss may result.
Stress: Severe and/or prolonged stress is a common cause of hair loss in both women and men. The good news is that this type of hair loss is usually temporary and ceases once stress has subsided. But it is still quite traumatic and the regrowth period can take quite some time.
Autoimmune disease: Diseases like alopecia areata and lupus are autoimmune disorders in which the body can attack healthy hair follicles. While treatments can help, temporary or permanent hair loss may be an ongoing issue.
Trauma from hairstyling: Tight or heavy hairstyles like braids and hair extensions can do temporary or permanent damage to hair follicles that results in traction alopecia. Chemical hair treatments and heat styling are also frequent causes of hair loss. Hairstyle-induced follicle trauma is one of the leading causes of hair loss for women, and it is a common cause of loss for Black men and women.
Medications or medical treatments: Many medications list hair thinning or loss as a common side effect. Several cholesterol and blood pressure medications, many hormone-based medications, acne medications and even certain antacids can cause this unfortunate side effect.
Best Hair Loss Treatments
Knowing the many different causes of hair loss puts us in a better position to understand which treatments might be best for hair loss patients in different situations.
Modern medical advances mean that there are now many excellent treatments for hair loss, including a variety of minimally invasive, non-surgical treatments.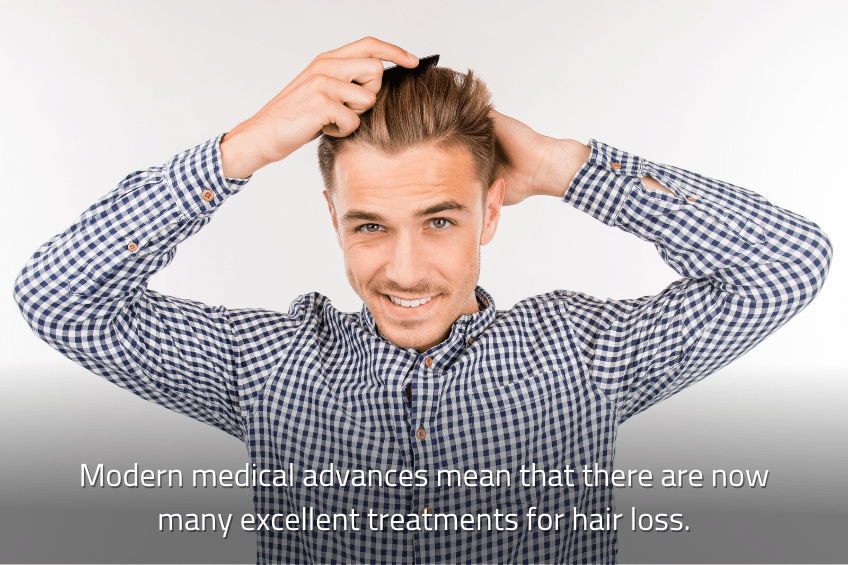 Non-Surgical Hair Loss Treatments
For those experiencing either temporary hair loss or the early stages of progressive hair loss, non-surgical hair loss treatments may be a good place to start.
Non-surgical interventions for hair loss include:
Oral or topical minoxidil: Also known as Rogaine, this medication treatment can increase the growth rate and thickness of your existing hair. It can also help aid regrowth after temporary hair loss issues.
Finasteride: This medication can help stop hair loss and aid regrowth. When started early enough, it can help people with male or female pattern baldness keep more of their hair.
Platelet-Rich Plasma Treatment (PRP): Uses the body's natural healing compounds to stimulate new hair growth. Platelet-rich plasma is extracted from the patient's own blood and then injected into various sites on the scalp.
Scalp Micropigmentation: Tiny, medical-grade tattoos help camouflage areas of thinning hair. The micropigmentation looks like individual hair follicles, effectively concealing areas of loss.
Adipose Stem Cell Treatment: Injections of adipose stem cells (from body fat deposits) into the scalp help spur new hair growth. Stem cells are known for their remarkable healing and regenerative properties.
PDO Threading: Another treatment that helps harness natural healing processes to promote new hair growth, this one uses dissolving polydioxanone (PDO) surgical threads implanted just below the skin on the scalp. The placement triggers irritation and natural healing to rejuvenate dormant hair follicles.
North Atlanta Hair Restoration offers all of these non-surgical interventions for hair loss.
A consultation with hair loss expert Dr. Daniel A. Danyo can help you decide if one of these might be a good option for you.
Surgical Hair Loss Treatment
For those with severe hair loss advanced pattern baldness, however, non-surgical treatments may not be enough.
Luckily, there are surgical hair restoration options available to treat a variety of hair loss concerns.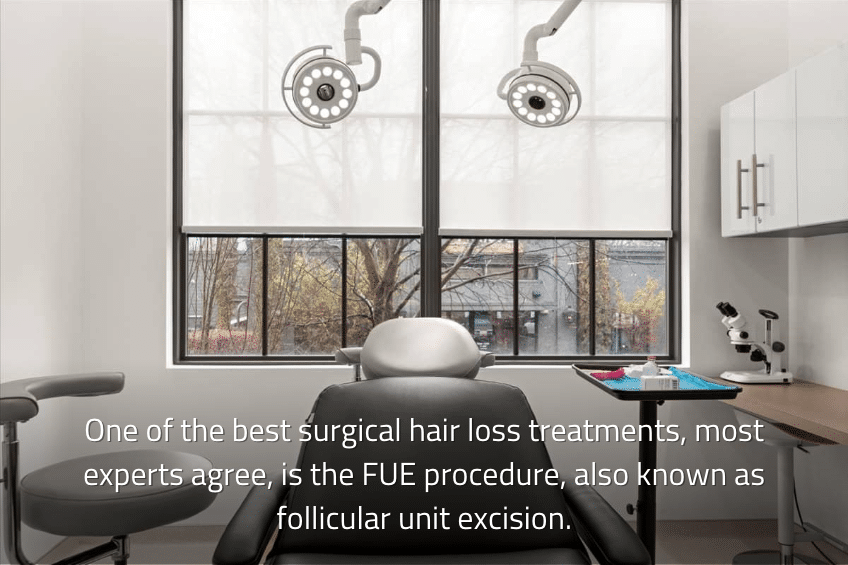 One of the best surgical hair loss treatments, most experts agree, is the FUE procedure, also known as follicular unit excision.
FUE has largely replaced older hair transplant methods like follicular unit transplantation (FUT) – also known as strip transplantation – which was notorious for its long recovery times and tell-tale linear scars.
Doctors and patients overwhelmingly prefer FUE because it is highly effective, virtually painless, can treat many different types of hair loss, and involves minimal recovery time.
Surgical FUE hair loss treatments include:
In addition to the many types of FUE, the cutting-edge direct hair implantation (DHI) technique is a great option for many. Ideal for less extensive hair loss, it uses a specialized tool that both excises and places grafts for greater speed and precision.
All of these advanced surgical treatments are available at North Atlanta Hair Restoration, performed by expert surgeon Dr. Daniel A. Danyo himself.
When To Start Treatment For Hair Loss
The best time to start treatment for hair loss is as soon as you notice it.
Early intervention can help you keep more of your hair and potentially save you the cost of expensive treatments down the line.
Of course, not everyone starts hair loss treatment early, but that's okay — North Atlanta Hair Restoration offers treatments for people at all stages in the hair loss journey.
Whether you're just noticing thinning, faced with extensive loss, or looking to correct earlier failed treatments, Dr. Danyo can assess your situation and devise a personalized treatment plan for you.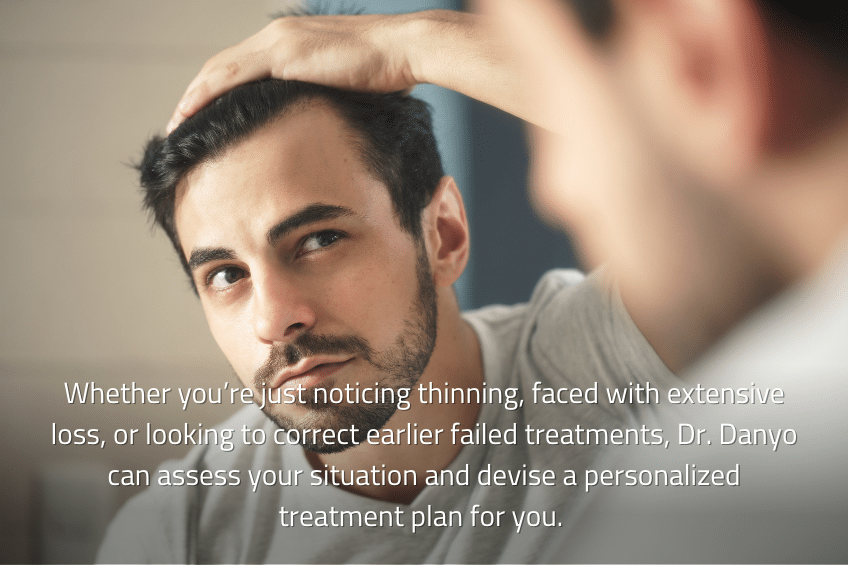 Considering a Hair Loss Treatment?
Don't wait. Call Dr. Daniel A. Danyo to get a personalized consultation and learn about all your treatment options.
Dr. Danyo is a renowned hair loss treatment specialist certified through the American and International Board of Hair Restoration Surgery.
You can book online, or call us at 678-845-7521 to schedule a virtual or in-person consultation.