A lot of people faced with hair loss wonder: What is the best hair restoration option available to me?
In terms of sheer effectiveness, ease and discretion, there's almost no contest – Shave-Less FUE transplants are the gold standard for hair restoration.
Why? Well, they are a cutting-edge technique with high hair follicle viability and a minimum of healing downtime.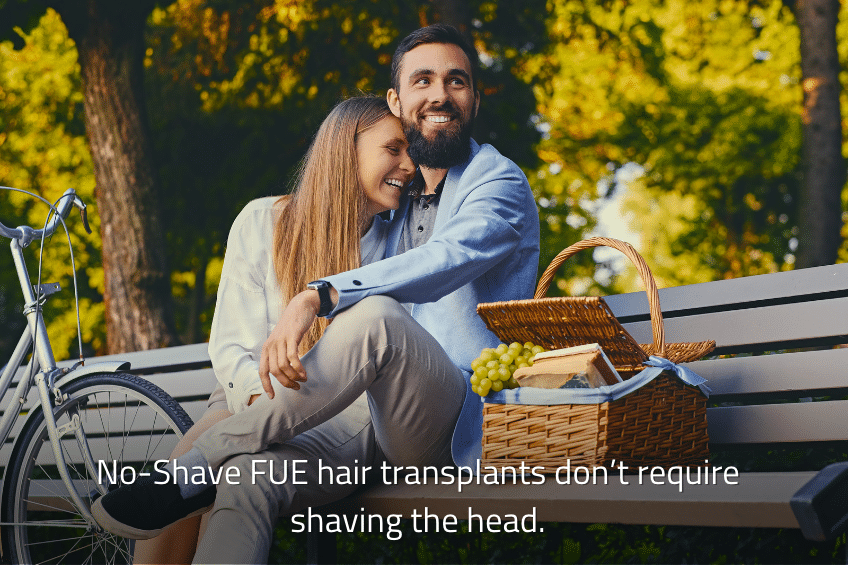 Unlike older hair transplant methods, they don't leave a linear scar, and they allow for better blending and precise placement to provide a more natural look.
No-Shave FUE hair transplants don't require shaving the head, you can get one and return to your daily activities without anyone noticing you've had something done.
So, what's the catch? There isn't one, really, except that not every hair restoration practice offers this advanced procedure.
Among those who do, it is rare to find a practitioner with years of training and experience and a meticulous eye for follicle placement.
What's more, many hair clinics outsource their transplant surgeries to surgical techs or assistants — not doctors – so you never know just who's going to do your transplant.
Dr. Daniel A. Danyo of North Atlanta Hair Restoration is different. He is a highly trained medical doctor who specializes in Shave-Less FUE, and he places every single graft himself.
That means that when you read the great reviews about his practice, you can expect the same experience, since it is always the doctor performing these restorations.
But first, you may be wondering:
What Is a FUE Hair Transplant?
FUE stands for follicular unit excision, a hair restoration procedure where individual hair follicles from thicker areas are removed and transplanted to thinning or bare areas.
The donor site is usually another part of the head or, in severe cases of hair loss, hair-bearing areas of the body like the beard or chest.
The FUE hair transplant procedure stands in contrast to what a lot of people think of when they hear "hair transplantation", which is cutting out an area of hair-bearing scalp and stitching it into another area.
This less sophisticated process, known as strip transplantation or FUT, results in a linear scar that can be quite noticeable.
Scarring with FUE, in contrast, is quite minimal, so it isn't as obvious that a restoration has been done.
What is Shave-Less FUE?
Shave-Less FUE is simply the FUE procedure performed without shaving any parts of the head.
The "Shave-Less" part refers to the fact that neither the donor site nor the transplant site is shaved before extraction, making the procedure much less noticeable.
That means you can basically walk out of the office looking as you did when you walked in. It also means not having to miss work or social obligations because you look like you've had something done.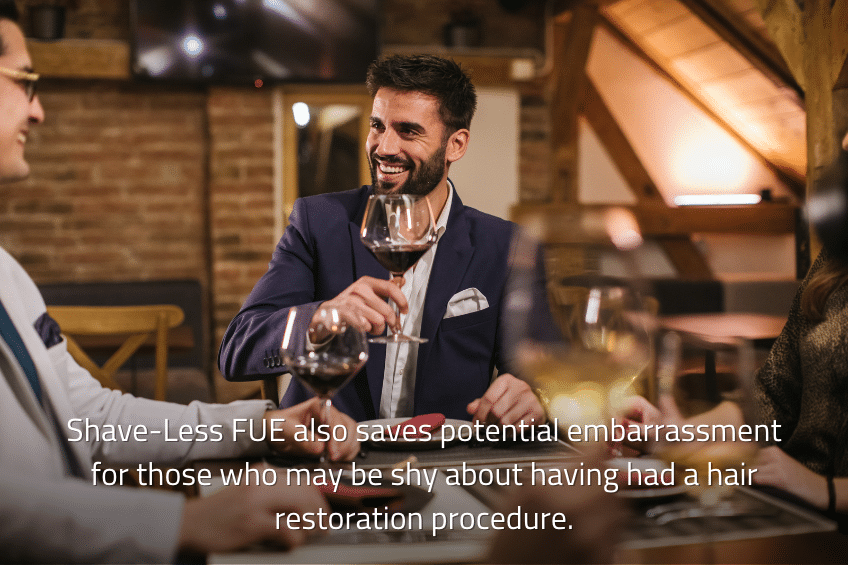 Shave-Less FUE also saves potential embarrassment for those who may be shy about having had a hair restoration procedure. This concealment can be especially important if you have scars from previous strip transplants that you don't want on display.
Most people simply don't want others to know, or they just may not like the look of a shaved head.
Shave-Less FUE gives you everything you want with none of what you don't.
Benefits of Shave-Less FUE Transplants
Doctors and patients increasingly prefer No-Shave FUE because it can be so effective, and it can treat many different types of hair loss.
The benefits of Shave-Less FUE include:
Minimal scarring
Minimal downtime
Minimal pain
Minimal infection risk
Natural, well-blended results
High graft viability/success rate
No head shaving required
Suitable for small or large transplants
How Does Shave-Less FUE Work?
When you have your Shave-Less FUE procedure, there is no advance preparation required and no downtime after the outpatient procedure.
The doctor will numb the donor and transplant areas with a local anesthetic and then set to work taking grafts from the donor site and carefully placing them in the unshaved areas where more hair thickness is desired.
Dr. Danyo places the grafts himself, assisted by his in-house, highly trained surgical team, with whom he has worked for several years.
The No-Shave FUE process is more laborious and demanding than shaved restorations, but Dr. Danyo and his team pride themselves on their speed and skill.
There are often as many as six hands on the head during a restoration, all working in concert to get everything done swiftly and properly.
The process can take several hours, especially for large hair transplants, but this usually allows them to get the whole procedure done in just one visit.
After the transplant, you will walk out looking normal, with aftercare instructions to ensure the best results.
The doctor usually has his patients shower the same day to keep the site clean and healthy, and normal activities can usually be resumed immediately.
Exertions like hard exercise will have to wait until several days after the procedure, but you will otherwise be able to go about your daily life just as usual.
Am I a Candidate For Shave-Less FUE?
The majority of the patients the doctor sees turn out to be very good candidates for Shave-Less FUE.
This includes both men and women, and it is great news for most people, since Shave-Less FUE is such a superior procedure.
No-Shave FUE is often a good option for people with:
Natural recession at the hairline. This is a common concern, and people with this kind of hair loss tend to do very well with FUE.
Severe balding. Those with lots of loss, including at the hairline, middle scalp and crown, can be good candidates for FUE. Hair for transplantation can be taken from other areas of body like the beard and chest.
Traction alopecia. This often-permanent hair loss issue affects many African-American women and can occur as a result of tight braids or hair weaves.
Flawed or failed previous transplants. Shave-Less FUE can be used to discreetly correct poor results from previous hair transplants, including FUT.
Beard and body hair loss. FUE transplantation can be used to restore growth to thin beard or body hair areas.
Thinning eyebrows. FUE can also be used to remedy natural eyebrow thinness or partial or total hair loss in the brows due to alopecia, overplucking or genetics.

Considering a Shave-Less FUE Hair Restoration?
Dr. Danyo is a renowned hair loss treatment specialist certified through the American and International Board of Hair Restoration Surgery.
Talk to Dr. Danyo and find out whether Shave-Less FUE or another procedure might be right for you.
You can book online or call us at 678-845-7521 to schedule a virtual or in-person consultation.