Sports radio personality Mike Bell, of the Bell & Dukes show on 92.9 The Game, first started noticing his hair was thinning about ten years ago.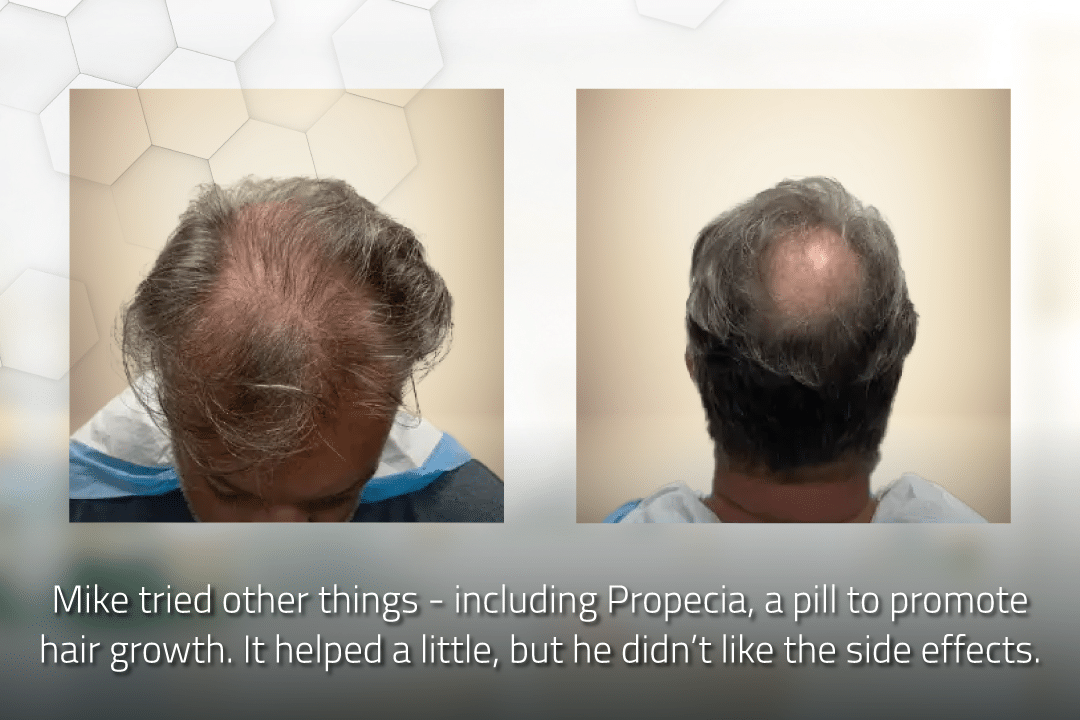 "I worked in television at the time," He says. "Especially in HD, you want to look good. So I started using hair fibers that you sprinkle in to cover your bald spot. But it was a problem if the wind blew or if it got wet, and if I lay down on a pillow it would look like I spilled an Etch-a-Sketch."
Mike went on to try other things — including Propecia, a pill to promote hair growth. It helped a little, but Mike didn't like the side effects. He even tried embracing the bald look and shaving his head. But he missed having hair.
He considered getting hair restoration surgery, but never felt quite sure about it. "I looked into a number of transplant options, but often I didn't trust the doctor or it seemed like a fly-by-night operation," he says.
Meeting With Dr. Danyo To Discuss No-shave FUE Options
As the co-host of a popular Atlanta-based sports radio show, Dukes & Bell, Mike wasn't shy about discussing his hair loss on the air. "My life's an open book," he says. "I have been saying for years on the radio that I wanted to take care of this."
He looked into Dr. Danyo's before-and-after FUE photos. Unlike other pictures he'd seen, Dr. Danyo's patients had natural hairlines — he couldn't tell that they'd had the procedure.
"I've seen other people's hair transplants and it looks like a line of sod across the forehead. It's quite obvious," he says. "I wanted it not to be obvious that I had the work done."
And when he spoke to Dr. Danyo, he got a good impression. "He seemed really professional. A straight shooter," Mike says
Dr. Danyo was up-front with Mike in discussing what the procedure entailed. Dr. Danyo suggested No-shave FUE — a procedure where healthy hair follicles are harvested from areas of normal growth and re-inserted into thinning areas.
What's It Like To Get Shave-less FUE
This is one of the most discreet methods available and doesn't leave behind a distinctive linear scar. It doesn't even require the patient to shave their head. Dr. Danyo is a pioneer of the practice and one of only a handful of hair restoration surgeons in the industry who offers it.
"We decided to do mine all in one day, as opposed to breaking it off in segments," Mike says. On the day of the procedure, everything went smoothly. "They give you a pain sedative to mellow you out, and topical injections to numb the area. I was awake the whole time and barely felt anything."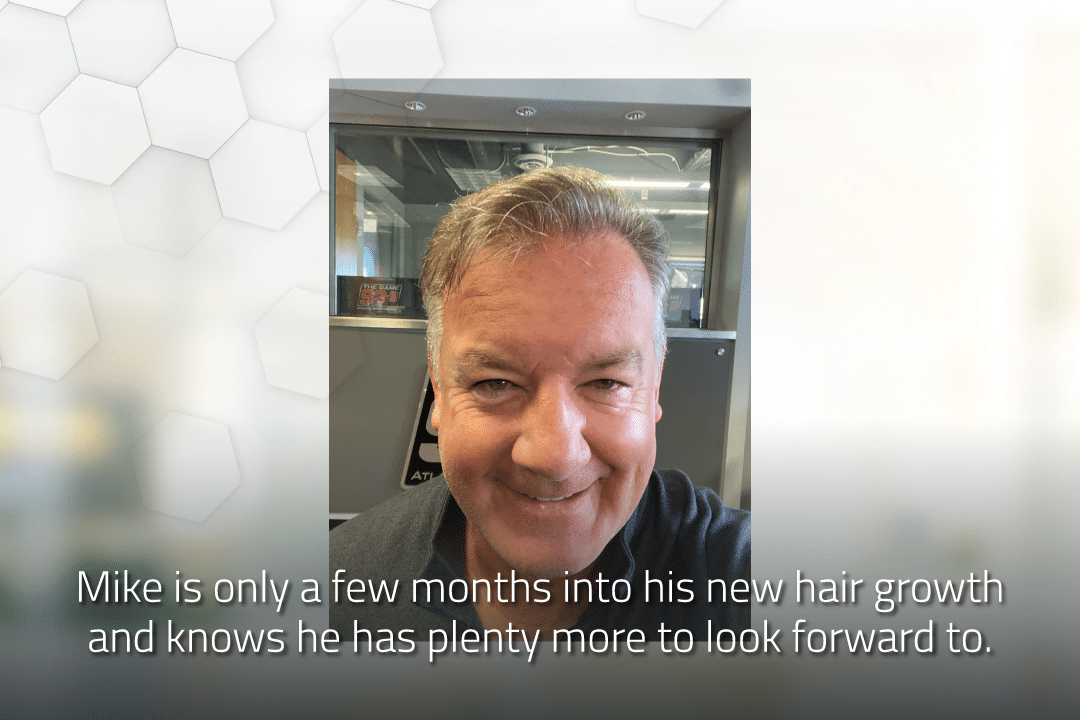 Dr. Danyo and his team kept Mike comfortable throughout the day. "I watched a little TV and just kind of mellowed," he says.  Dr. Danyo handled the whole procedure by hand, start to finish, with the help of his assistants. "This was another reason working with Dr. Danyo appealed to me," Mike says. "He does the whole procedure himself."
The procedure took place on a Friday, so Mike took that day off work. That weekend he experienced some normal swelling, but it subsided within 36 hours. "I was back to work on Monday," Mike says.
"Dr. Danyo said that I'd see some growth in the first sixty to ninety days, and then there'd be a shedding period where it would go back to what it looked like originally," he adds. "After that I could expect to see new hair growth over the next few months."
And as the months went on, Mike's hair growth progressed almost exactly as Dr. Danyo said it would. Within the first four or five months, Mike noticed significant new hair growth in previously thinning areas — and he was thrilled with the way his hairline looked.
Just A Few Months Later
"I had my procedure on June 10th.  By Halloween, my wife was starting to notice the new growth. She remarked on how great it looked," he says. "In the front I have about half an inch to an inch more hairline than I did. And it looks like a natural hairline — not like the first base line in baseball," he says, laughing.
Mike is only a few months into his new hair growth — and knows he has plenty more to look forward to. "My expectations were totally met," he says. "Dr. Danyo did exactly what he said he would do; there was no nonsense. Everything promised was delivered."
You Don't Have to Accept Hair Loss
Dr. Daniel A. Danyo is one of the industry's leading practitioners of No-shave FUE. He has helped thousands of clients restore their natural hair growth — without any telltale sign that they've had the procedure.
Contact us today to schedule a confidential consultation with Dr. Danyo now.